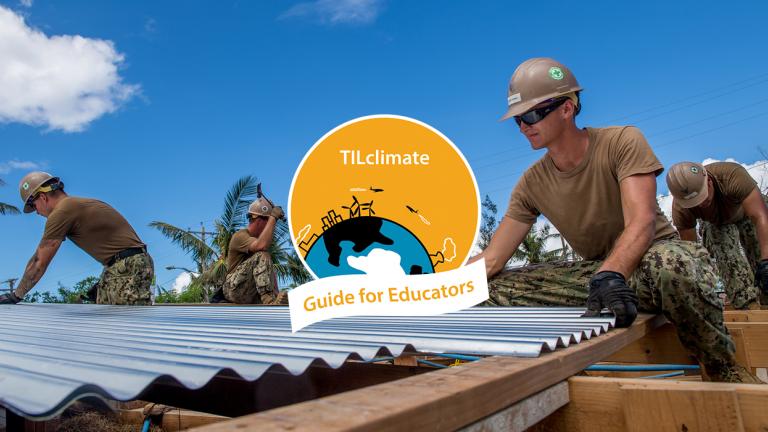 Photo Credit
U.S. Navy via Flickr
This Guide for Educators was developed by the MIT Environmental Solutions Initiative as an extension of our TILclimate (Today I Learned: Climate) podcast, to make it easier for you to teach climate change, earth science, and energy topics in the classroom. It is an extension of the TILclimate episode "TIL about what it costs."
Browse all TILclimate guides for educators.
Description
As discussed in the podcast episode, financial investments are needed to both slow down climate change and prepare for climate impacts. Students investigate projects and data to learn about the opportunities of multisolving to make smart decisions for our future.
SWBAT:
Explain that extreme weather events are increasing in severity around the world as a result of climate change.

Understand that decision-makers must balance the cost of adaptation and mitigation (reducing carbon dioxide emissions) with the increasing costs of inaction.

Describe adaptation and multisolving stories that are exciting and interesting to them.
Skills:
Reading graphs

Reading maps

Summarizing case studies
Standards:
HS-ESS3-4 Evaluate or refine a technological solution that reduces impacts of human activities on natural systems.

HS-ESS3-6 Use a computational representation to illustrate the relationships among Earth systems and how those relationships are being modified due to human activity.

HS-ETS1-3 Evaluate a solution to a complex real-world problem.

HS-LS2-7 Design, evaluate, and refine a solution for reducing the impacts of human activities on the environment and biodiversity.

RST.11-12.2 Determine the central ideas or conclusions of a text; summarize complex concepts, processes, or information presented in a text.
Disciplinary core ideas:
ESS2.D Weather and Climate

ESS3.B Natural Hazards

ESS3.C Human Impacts on Earth Systems

ESS3.D Global Climate Change
What is included in this Educator Guide
Listen to the episode