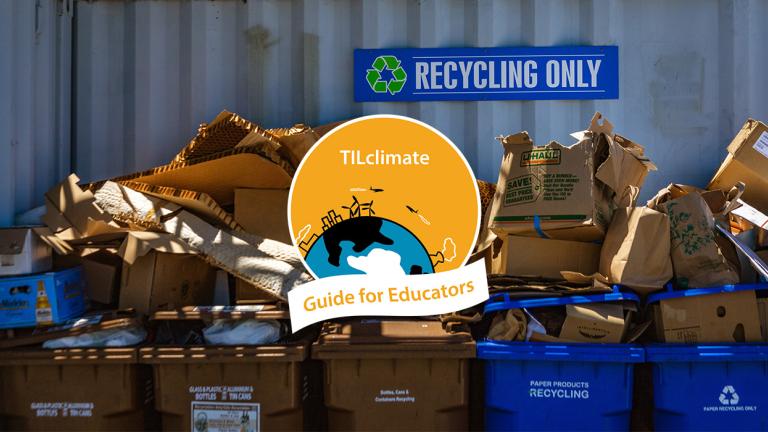 This Guide for Educators was developed by the MIT Environmental Solutions Initiative as an extension of our TILclimate (Today I Learned: Climate) podcast, to make it easier for you to teach climate change, earth science, and energy topics in the classroom. It is an extension of the TILclimate episode "TIL about recycling."
Browse all TILclimate guides for educators.
Description
We often hear about the "Three Rs" of environmental solutions, but how does recycling help climate change? Students engage in a design challenge, research recycling in their own community, and investigate US municipal solid waste data.
SWBAT
Brainstorm and investigate solutions beyond 'just recycle more'.
Explain the link between recycling and climate change.
Understand where recycling in their own community goes.
Skills
Design Process
Communication
Graph and data reading
Standards:
HS-ESS3-2 Evaluate competing design solutions for developing, managing, and utilizing energy and mineral resources.
HS-ESS3-4 Evaluate or refine a technological solution that reduces impacts of human activities on natural systems. 
HS-ETS1-2 Design a solution to a complex real-world problem by breaking it down into smaller, more manageable problems that can be solved through engineering.
HS-LS2-7 Design, evaluate, and refine a solution for reducing the impacts of human activities on the environment and biodiversity.
WHST.9-12.7 Conduct short as well as more sustained research projects to answer a question or solve a problem.
SL.11-12.5 Make strategic use of digital in presentations to enhance understanding of findings, reasoning, and evidence and to add interest.
Disciplinary Core Ideas:
ESS2.D Weather and Climate
ESS3.C Human Impacts on Earth Systems
ESS3.D Global Climate Change
ETS1.A Defining and Delimiting an Engineering Problem
ETS1.B Developing Possible Solutions
What is included in this Educator Guide
Listen to the episode