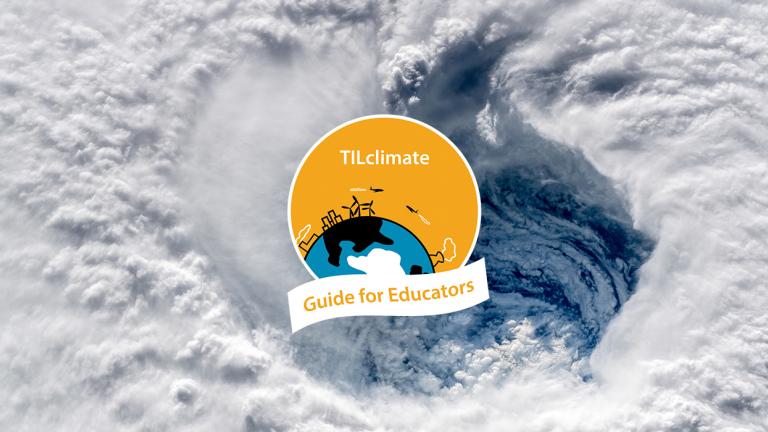 Photo Credit
Alexander Gerst via Flickr
This Guide for Educators was developed by the MIT Environmental Solutions Initiative as an extension of our TILclimate (Today I Learned: Climate) podcast, to make it easier for you to teach climate change, earth science, and energy topics in the classroom. It is an extension of the TILclimate episode "TIL about hurricanes."
Browse all TILclimate guides for educators.
Description
Hurricanes are a fact of life for millions of Americans each year, and billions more people around the world. What is a hurricane, and how can we prepare for them? Through a model and student-level data, students explore the factors influencing storm frequency and intensity. They also consider the language of storms, as well as steps to resilience.
SWBAT:
Explain that hurricanes are influenced by sea surface temperatures, moisture, wind, and other factors.

Understand that increased heat in the atmosphere, ocean, and land are changing the frequency and intensity of hurricanes.

Name a few concepts for hurricane resilience.
Skills:
Modeling

Graphing

Discussion
Standards:
HS-ESS2-2 Analyze geoscience data to make the claim that one change to Earth's surface can create feedbacks that cause changes to other Earth systems.

HS-ESS3-5 Analyze geoscience data and the results from global climate models.

HS-ETS1-2 Design a solution to a complex real-world problem by breaking it down into smaller, more manageable problems that can be solved through engineering.

RST.11-12.9 Synthesize information from a range of sources into a coherent understanding of a process, phenomenon, or concept.

HSN-Q.A.2 Define appropriate quantities for the purpose of descriptive modeling.
Disciplinary core ideas:
ESS2.A Earth Materials and Systems

ESS2.D Weather and Climate

ESS3.D Global Climate Change
What is included in this Educator Guide
Listen to the episode