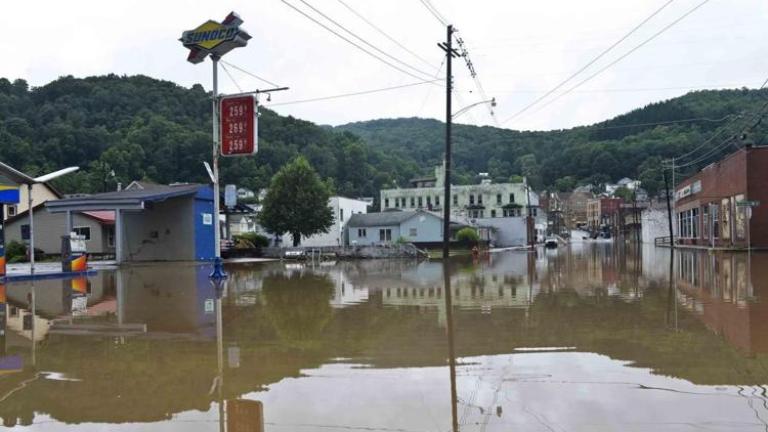 Photo Credit
Gazette-Mail file photo
This story by ESI Journalism Fellow Mike Tony was originally published as part of the Charleston Gazette-Mail's "Facing Flooding" series, where it appears with additional photos and resources.
__________
After a June 2016 flood devastated the tiny town of Rainelle, Dave Sweet performed a mental health assessment on a boy whose family's home there was washed away.
"Every time it rains, he gets a panic attack," Sweet recalled.
Now a retired psychologist and a Rainelle Town Council member in Greenbrier County, Sweet says the boy hasn't been alone.
"There's some people in this town, when we get a hard rain, it triggers their PTSD," Sweet said.
The stress disorder is post-traumatic, but Sweet knows there's likely more trauma to come.
"What I tell people is it's not a matter of if, but when it gets flooded again," Sweet says.
Three out of every four properties in Rainelle have greater than a 26% chance of being severely affected by flooding over the next 30 years, according to Risk Factor, a tool created by the First Street Foundation, a nonprofit that quantifies climate risks.
Severe flood risk is significant throughout West Virginia.
Over 423,000 properties have greater than a 26% chance of being severely impacted by flooding over the next 30 years — a third of all state properties, per Risk Factor data.
More than half of West Virginia's critical infrastructure — including fire, police and power stations — is at risk of becoming inoperable due to flooding, according to a 2021 First Street Foundation study. West Virginia's share of critical infrastructure at risk of being inoperable due to flooding was higher than any other state's.
But West Virginia has grappled with more than just risk since the June 2016 flood killed 23 people and temporarily displaced over 2,000.
Since that flood through March 2023, the Mountain State suffered 1,136 more flood and flash flood events causing seven deaths and over $35.6 million in property damage, according to National Oceanic and Atmospheric Administration data. Floods are longer-term events that may last days or weeks, while flash floods are caused by heavy rainfall in a short period of time, usually under six hours.
Flooding is West Virginia's costliest and most severe natural hazard, according to the NOAA. Of West Virginia's 24 Federal Emergency Management Agency major disaster declarations since 2010, 19 were declared for severe storms and flooding events.
Nicolas Zegre, associate professor of forest hydrology at West Virginia University, says West Virginia's sharp slopes, narrow valleys and shallow soils result in water traveling downslope rapidly.
Water ends up traveling toward a high share of people living near water due to a dearth of flat land for people to live on, Zegre observed.
The steep flood risks among steep slopes that West Virginians face are only going to get worse.
The NOAA says West Virginia's number and intensity of extreme precipitation events are projected to increase along with its winter and spring precipitation amounts, creating an elevated flooding risk.
Zegre cited a First Street Foundation projection to a panel of state lawmakers in a presentation on flooding last year. According to that report, most of the state will see double-digit increases in the percentage of properties at risk of flooding by 2050 compared to 2020. The projected increases exceeded 40% for Doddridge, Kanawha, Mingo, Taylor and Wetzel counties.
The Kanawha Valley has long been known as "Chemical Valley" due to its prevalence of chemical facilities.
West Virginia's significant concentration of chemical operations makes the state susceptible to chemical spills and other industrial disasters that could be prompted by floods.
The depth of water at West Virginia's 163 facilities that submitted 2021 data for a federal toxics release database in the event of a 100-year flood is projected to increase by an average of over 1 foot per site in the next 30 years, per a Gazette-Mail and First Street Foundation data analysis.
The United States Environmental Protection Agency's database tracks sites that handle chemicals that cause significant adverse human health and environmental effects.
West Virginia's topography didn't become flood-prone by itself.
"I don't think many people connect the dots between how different disturbances of the terrain and of the land cover affect water quantities, specifically, with respect to flooding but also water quality," Zegre said in a phone interview.
West Virginia's long history of extractive industry land disturbances has fast-tracked the state's path to higher flood risk, supported by political leaders increasingly desperate to preserve the economic status quo allowing for that extraction.
West Virginia lawmakers have invested further in coal extraction in recent years. The state's clip of coal-fired generation, 91%, was the highest in the country in 2021 by 16 percentage points. Mountain State leaders have blocked key federal efforts to slow climate change, shaping national environmental policy and lowering the ceiling on climate action despite projections of rising floodwaters.
Meanwhile, West Virginia's leaders haven't updated the state's flood protection plan since 2004.
Participants at a flood symposium in Charleston found just a fraction of recommendations from the plan have been carried out, according to a synthesis of participant feedback published by cohost Pew Charitable Trusts, a global nongovernmental public policy organization.
Flood preparedness and response experts from academia, nongovernmental organizations and state and local governments attended the symposium.