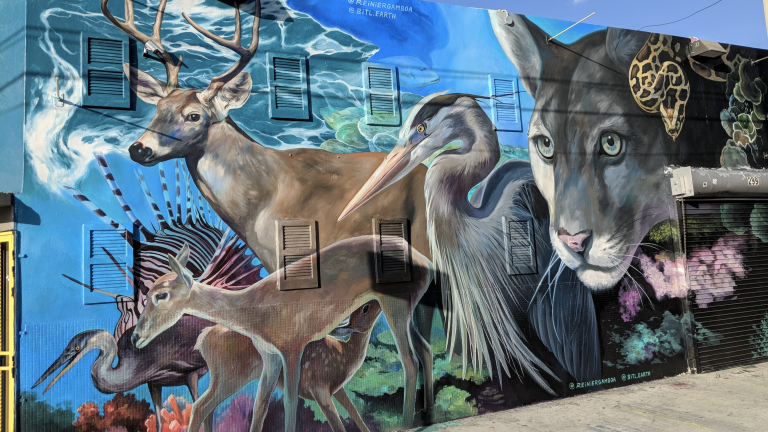 Linda Cheung is an MIT alum and founder of the Miami-based nonprofit Before It's Too Late, which aims to inspire the public to join the fight against climate change. Focusing on the personal impact of climate change, Ms. Cheung sheds light on the crisis by using art and technology to draw on human emotions.
In 2016, Cheung launched her nonprofit Before It's Too Late, using virtual reality (VR) and augmented reality (AR) technology she was exposed to at MIT to encourage individuals to feel closely and emotionally connected to climate change. Working at the grassroots level, Cheung's work focuses on building public support necessary to drive political action. "The quickest way to radical change," she says, "is to shift paradigms."
Cheung's current focus is creating a series of murals in Miami, Florida (http://miamimurals.org), which highlight the impacts of climate change in the city and surrounding area. AR is used to bring the murals to life. So far, two murals have been completed. The first focuses on the impact of sea level rise on the city. The second mural focuses on mass biodiversity extinction, featuring animals local to the area with which the people of Miami have an emotional connection. Before It's Too Late has also organized a project called Remembering Miami (http://www.beforeitstoolate.earth/remembering-miami.html), which shares the stories of people across Miami from various walks of life and describes how climate change has altered their lives. Cheung hopes the project, posted on social media platforms, will resonate with individuals across the city, as many of the stories told will likely be familiar in large ways and small. What all Before It's Too Late's projects share is the goal of inspiring ordinary people in order to drive political action.
While combating the climate crisis has become Cheung's passion, this was not the path she saw herself following when she first began planning her career. In her early 20's, Cheung pursued a B.S. in Economics at The Wharton School at the University of Pennsylvania, preparing her for a career in business. Partaking in internships, she was shown a society obsessed with growth. As a result, she increasingly found herself drawn to social action. She was struck with the urgency associated with the climate crisis. By the time she entered the Sloan School of Management to pursue a MBA in Business, she brought with her the intention to do something about climate change with her work. While studying renewable energy, she found herself out-of-place in an environment where one was "obligated to deliver profits". This, combined with her increased knowledge on climate change she acquired while at Sloan, led Cheung to realize that her greatest potential in life lay with working on the climate crisis. As she put it, her experience at MIT "made me realize I had more power than I thought".
Ms. Cheung continues to work on new ideas for projects regarding the climate crisis. She plans on releasing a book discussing climate change, combining text with illustrations and AR. In addition, she looks to launch a 7-day challenge over the course of earth week (the week of Earth Day), the second time Before It's Too Late will have offered a personal challenge for the week. Each day, participants will complete an action that is associated in some way with the climate crisis. She hopes to make this challenge national, with an estimated 5,000 individuals participating, including a large number of students. Students will also be given a daily journal to record their experience completing each day of the challenge. This would include completing questions such as "Was it difficult to complete the day's challenge?", "How did your parent(s)/guardian(s) react to your participation in the challenge?", and "What actions did you take to complete the challenge?".
Ms. Cheung recognizes that society's current path is inadequate to prevent the worst effects of climate change. One such path is using the public to drive action at the political level. By using a combination of art and technology that targets an individual's emotions, she has started a unique movement with the purpose of inspiring the general public to combat climate change. In Ms. Cheung's words, "you manifest your destiny as soon as you start being open and courageous".
Linda Cheung was recently named one of Grist.com's 50 Fixers. Read about her and other change-makers here: https://grist.org/grist-50/2019/
Authored by Lauren Balsamo
Image by: Before It's Too Late