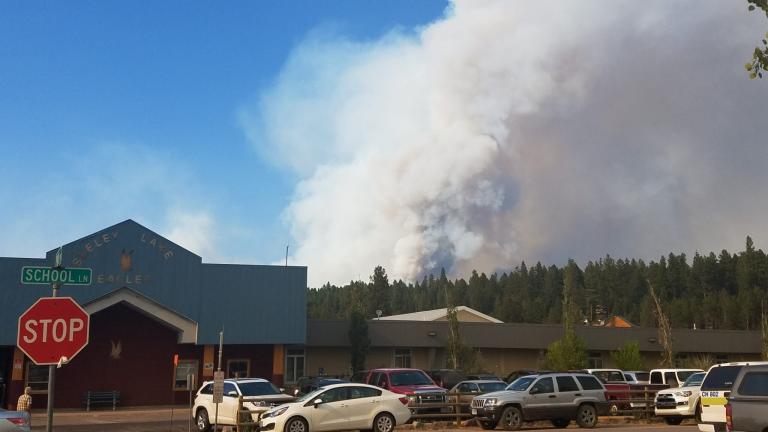 This story by ESI Journalism Fellow Micah Drew was originally published as part of Montana's Climate Change Lawsuit reporting by The Flathead Beacon, where it appears with additional photos and resources.
__________
Mica Kantor, 14, says he has felt the impacts of the changing climate on the roads, tracks and trails he runs on, prompting his inclusion as a plaintiff in Held v. Montana
On the last Saturday in April 14-year-old Mica Kantor took part in the YMCA Riverbank Run 10k in his hometown of Missoula, Montana. Promptly at 9 a.m., the starting gun fired, and Kantor took off down Higgins Avenue, up the Bear Tracks Bridge, and across the Clark Fork River, winding around the University of Montana campus before looping back towards the river.
He finished the race in 40 minutes and 53 seconds, good enough for a 12th place finish behind racers all at least five years older than him.
After taking a moment to catch his breath and grab a drink of water, Kantor headed back to the starting line. Less than an hour after finishing the 10k, he took off once again with a crowd of runners, this time running a 5k.
Against the same competitors, Kantor finished 11th. A half hour later, he returned to the start a third time, this time to race a mile.
He finished ninth.
The challenging back-to-back-to-back race, known as the Trifecta, was only completed by 146 of the nearly 2,500 participants in the Riverbank Run, and Kantor was the youngest finisher in the top 20 — beating his dad by 10 spots.
"It was a pretty good race," Kantor said. "But the 5k in the Trifecta always feels so much harder than a normal 5k."
Kantor has been an avid runner since he was 8 years old, and this was his second time completing the trifecta. In just six years of running, Kantor has found a passion for the aerobically challenging sport.
"When you're running and the air is nice and clear outside, like we had for the Trifecta, it feels meditative and relaxing," he said. "But when you're running outside in the smoke, you feel sick, your throat is dry and your eyes are itching. It's the opposite of becoming free."
The latter experience has been a common one for Kantor, as the scientific community increasingly links climate change to the intensity and frequency of wildfires. In western Montana, wildfires routinely burn through swaths of national forest each summer, and it's not uncommon for scholastic sports to cancel practices and competitions in the early fall due to unhealthy air quality.
Kantor's experiences with smoke and athletics contributed to his decision to become a plaintiff in the lawsuit Held v. Montana, a youth-led climate change lawsuit alleging the state government is violating the constitutional right to a clean and healthful environment. Along with 15 other Montana youths, Kantor will be in Helena on June 12 for the start of the two-week trial and will testify about the impact climate change has had on his life.   
Because Missoula sits in a valley surrounded by several mountain ranges, wildfire smoke will often blanket the town, spiking the particulate matter in the air. Smoke particulates, smaller than the width of a human hair, can damage lung cells, lead to respiratory infections and cause cardiovascular problems. Research published by University of Montana immunologist Chris Migliaccio shows prolonged wildfire smoke exposure can significantly decrease a person's lung function — a consequence runners like Kantor hope to avoid. 
For Kantor, three smoky years stand out in his memory. The summer before Kantor entered third grade in 2017, a lightning-started wildfire around the nearby town of Seeley Lake blossomed from roughly 20,000 acres at the end of August to more than 100,000 acres in just over a week, ranking as the nation's No. 1 priority fire at the time. Thick smoke from that fire, just 30 miles northeast of Missoula, along with smoke from the Lolo Peak fire in the mountains to the south of the city covered the valley in a dense, hazardous haze. In the early days of the school year, Kantor's elementary school was required to keep kids inside during recess for three consecutive weeks.
In 2020 during the height of the pandemic, Kantor contracted COVID-19, and quarantined from his family in their basement. While many people in similar predicaments might have found refuge with solo excursions outside, Kantor wasn't able to leave the house, as there were nearby wildfires that brought smoke into town. Running outside, or even going for a walk — anything that would amount to an escape from quarantine — wasn't a healthy option.
"It's really hard to experience that when you're itching to go run outside," Kantor said.
According to the EPA, active children should avoid prolonged outdoor exertion if the air pollution level spikes to "moderate" — above 50 on the Air Quality Index (AQI Scale). The AQI surpassed that level for 43 of 61 days in August and September of 2017, and 20 days during the same period of 2020.
While 2022 was a more moderate wildfire season in Montana, smoke from wildfires around the west blew into Montana. An AQI of more than 100 will prompt school district officials in Missoula to consider limiting recess and athletic activities, and an AQI of 151 or higher will cancel athletic practices and competitions altogether.
"Last cross country season, right before our first race a lot of kids on the team were feeling sick, and I really think it was the smoke," Kantor said. For a week leading up to the first meet, the AQI was above 51, and spiked over 151 for four of those days. "A lot of kids didn't have any training before that race because we weren't allowed to be outside. I went into that first race feeling a little sick and at the end I couldn't get myself to sprint. My throat was dry and it felt pretty awful."
Even before Kantor's experience with wildfires disrupting his athletic outlet he was aware of the impacts of global warming. The first time he recalls hearing about climate change was as a 4-year-old, he says, when his parents took him to see the 2012 documentary "Chasing Ice."
"My parents didn't think I'd understand the film. They just thought I'd like the cinematography," he said. "But I understood. Not fully, since I was 4, but I knew something was wrong and it scared me a little. I was shocked and had a lot of questions for my parents. I've been trying to learn more and more about it ever since."
Smoke is Kantor's earliest recollection seeing the effects of climate change firsthand, but he also noticed it in other recreational arenas. His family has had to cancel several backpacking trips over the years when wildfires closed sections of forest and wilderness. He saw flooding in the spring and faced late summer fishing restrictions on nearby streams and rivers due to drought and increased water temperatures.  
Kantor's family heard about possible legal action being taken against the state through a local climate change group, and both Kantor and his older sister considered what it would mean to take part. Kantor's interest was piqued.  
"I decided it was definitely something I wanted to do," he said. "I'd say I had a good understanding of what I was getting myself into. I understood it was a big commitment, and that it could be years, but I knew I would feel worse if I wasn't a part of it. I wanted to do this."
Kantor says the three years since Held was filed have been very educational. He's used the trial preparation as a learning experience to better understand the legal system, and the ways Montana laws and politics operate.
"I didn't know at the beginning how early Montana politicians knew that climate change was happening — they've known about it for a long time and just decided to ignore it," he said. "I didn't know growing up that Montana had all these laws that protect the environment, because it hasn't seemed like the government has been following them."
On June 12, Kantor will join 15 other Montana youths in Helena for what's expected to be a two-week bench trial to hear arguments for and against the constitutionality of two Montana statues.
"I'd like to hope that our generation can make a difference and hope that it turns around for the better," Kantor said, adding that he has several bucket list backpacking trips he'd like to do one summer that isn't beset by wildfires.
He also has big goals for his future as a runner. His wants to break five minutes in the mile soon, and next year will compete on his high school team, a statewide distance running powerhouse.
"Right now, our future is very uncertain," he says. "But I hope that we can keep running in the future."
Continue reading on the Montana's Climate Change Lawsuit website.