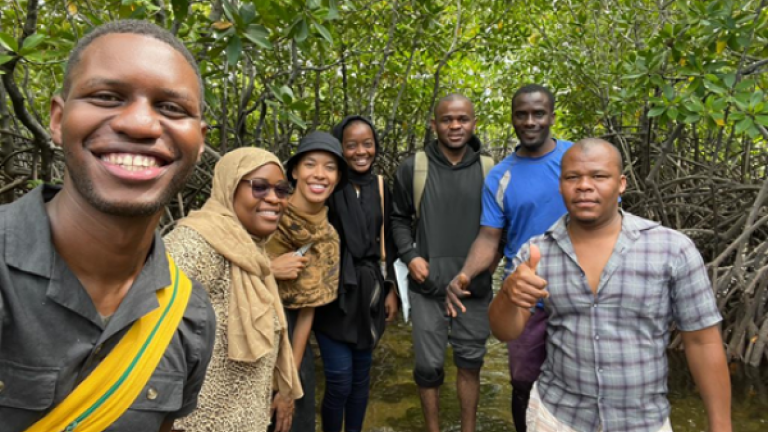 Photo Credit
Photo: Rajan Hoyle
Kristen Wilcox
With new support from the Office of the Associate Provost for International Activities, MIT International Science and Technology Initiatives (MISTI) and the MIT-Africa program are expanding internship opportunities for MIT students at universities and leading academic research centers in Africa. This past summer, MISTI supported 10 MIT student interns at African universities, significantly more than in any previous year.
"These internships are an opportunity to better merge the research ecosystem of MIT with academia-based research systems in Africa," says Evan Lieberman, the Total Professor of Political Science and Contemporary Africa and faculty director for MISTI.
For decades, MISTI has helped MIT students to learn and explore through international experiential learning opportunities and internships in industries like health care, education, agriculture, and energy. MISTI's MIT-Africa Seed Fund supports collaborative research between MIT faculty and Africa-based researchers, and the new student research internship opportunities are part of a broader vision for deeper engagement between MIT and research institutions across the African continent.
While Africa is home to 12.5 percent of the world's population, it generates less than 1 percent of scientific research output in the form of academic journal publications, according to the African Academy of Sciences. Research internships are one way that MIT can build mutually beneficial partnerships across Africa's research ecosystem, to advance knowledge and spawn innovation in fields important to MIT and its African counterparts, including health care, biotechnology, urban planning, sustainable energy, and education.
Ari Jacobovits, managing director of MIT-Africa, notes that the new internships provide additional funding to the lab hosting the MIT intern, enabling them to hire a counterpart student research intern from the local university. This support can make the internships more financially feasible for host institutions and helps to grow the research pipeline.
With the support of MIT, State University of Zanzibar (SUZA) lecturers Raya Ahmada and Abubakar Bakar were able to hire local students to work alongside MIT graduate students Mel Isidor and Rajan Hoyle. Together the students collaborated over a summer on a mapping project designed to plan and protect Zanzibar's coastal economy.
"It's been really exciting to work with research peers in a setting where we can all learn alongside one another and develop this project together," says Hoyle.
Using low-cost drone technology, the students and their local counterparts worked to create detailed maps of Zanzibar to support community planning around resilience projects designed to combat coastal flooding and deforestation and assess climate-related impacts to seaweed farming activities. 
"I really appreciated learning about how engagement happens in this particular context and how community members understand local environmental challenges and conditions based on research and lived experience," says Isidor. "This is beneficial for us whether we're working in an international context or in the United States."
For biology major Shaida Nishat, her internship at the University of Cape Town allowed her to work in a vital sphere of public health and provided her with the chance to work with a diverse, international team headed by Associate Professor Salome Maswine, head of the global surgery division and a widely-renowned expert in global surgery, a multidisciplinary field in the sphere of global health focused on improved and equitable surgical outcomes.
"It broadened my perspective as to how an effort like global surgery ties so many nations together through a common goal that would benefit them all," says Nishat, who plans to pursue a career in public health.
For computer science sophomore Antonio L. Ortiz Bigio, the MISTI research internship in Africa was an incomparable experience, culturally and professionally. Bigio interned at the Robotics Autonomous Intelligence and Learning Laboratory at the University of Witwatersrand in Johannesburg, led by Professor Benjamin Rosman, where he developed software to enable a robot to play chess. The experience has inspired Bigio to continue to pursue robotics and machine learning.
Participating faculty at the host institutions welcomed their MIT interns, and were impressed by their capabilities. Both Rosman and Maswime described their MIT interns as hard-working and valued team members, who had helped to advance their own work.  
Building strong global partnerships, whether through faculty research, student internships, or other initiatives, takes time and cultivation, explains Jacobovits. Each successful collaboration helps to seed future exchanges and builds interest at MIT and peer institutions in creative partnerships. As MIT continues to deepen its connections to institutions and researchers across Africa, says Jacobovits, "students like Shaida, Rajan, Mel, and Antonio are really effective ambassadors in building those networks."