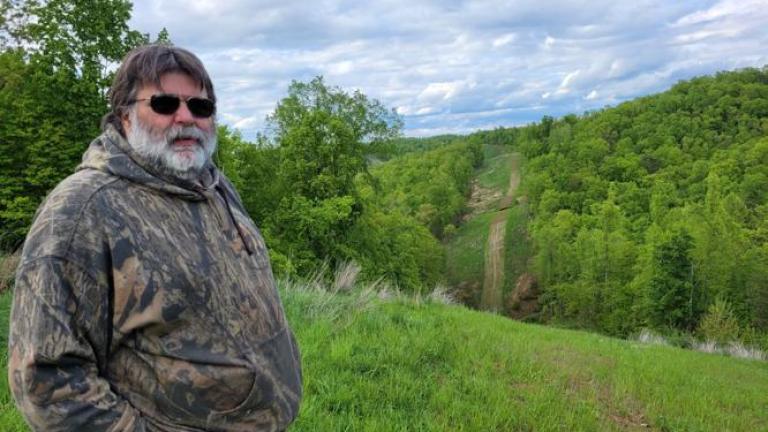 Photo Credit
MIKE TONY | Gazette-Mail
This story by ESI Journalism Fellow Mike Tony was originally published as part of the Charleston Gazette-Mail's "Facing Flooding" series, where it appears with additional photos and resources.
__________
You're supposed to make hay while the sun shines.
But John Coleman's Tucker County family farm has had a hard time making square bales of hay the way it used to do.
It takes three days of dry weather for the farm, near Parsons, to make the hay hauled by truck and stacked in a barn.
"It's gotten hard in recent years to find three days of dry weather to dry that hay," Coleman said.
When Coleman learned there was a 4.2-inch-per-year increase in precipitation in Tucker and Preston counties from 1970 to 2020, it all started to make sense.
"That's why it's become so difficult," Coleman said.
It was research NASA conducted in partnership with Friends of the Cheat, a Cheat River watershed restoration nonprofit, published in 2021 that determined that annual 4.2-inch precipitation rise, coupled with a 2.75-degree-Fahrenheit increase in yearly average temperatures.
"Climate change and flooding and runoff, people see the effects," Coleman said. "We don't talk about where that's coming from. But they do see flooding increase, runoff in the creeks, and a lot more days with lots of rain."
Frank Gebhard of Davis, in Tucker County, recalled that flooded waterways like Horseshoe Run recently have resembled chocolate milk, their waters high and cloudy even after modest rain.
Gebhard, a project coordinator with Friends of Blackwater, a Mid-Atlantic Allegheny Highlands preservation nonprofit, noticed some of that coloration while surveying some of a roughly 86,000-acre United States Forest Service-proposed project area north of Parsons.
The project, which encompasses some 34,000 acres of National Forest System land within the Upper Cheat River watershed, includes clear-cutting roughly 3,500 acres of hardwood. The Forest Service aims to shift the Monongahela National Forest away from older-aged trees and reduce tree density. The agency says the moves would boost shade-intolerant species and promote climate resilience by potentially reducing the risk of insect and disease outbreak and severe wildfires.
But Horseshoe Run community members have objected to the proposed project. They say it would undercut the forest's ability to slow runoff and store carbon that fuels climate change driving an increase in flooding and other extreme weather events.
Nearly four dozen residents of Horseshoe Run Road and nearby lanes signed off on a September filing objecting to a March 2022 Forest Service environmental assessment in the project's favor.
"[T]he project focus should be on decreasing runoff from Forest lands," the residents said in a letter led by Coleman.
The project environmental assessment to which the group objected concedes steeper areas are likely to have more runoff and erosion. Nearly 200 acres of soil disturbance would result from new skid trail and landing creation and use, according to the assessment. The Forest Service noted that soil compaction results in increased runoff, erosion and sedimentation — and that the project could result in some long-term areas of soil compaction.
"The community objecting to this … poorly supported proposal has generations of experience and coexistence with the local forest ecology," the Horseshoe Community Group wrote to the Forest Service. "This depth of knowledge is not reflected in the narrow lens of [forest] stand-age-reduction used throughout this proposal."
NASA's 2021 report notes that poor water quality due to acid mine drainage and excess sediment loads during flood events threaten the health of communities that rely on the Cheat River as a primary water source.
A final environmental assessment on the project is contingent upon further consultation with the U.S. Fish and Wildlife Service, Forest Service spokesperson John Winn said, adding that Fish and Wildlife has no schedule for a finalized environmental assessment and decision notice.
The feds said in response to comments objecting to the project that vegetation removal isn't expected to noticeably change water quantity dynamics.
But old-growth forests sequester significant amounts of carbon, making them an essential buffer against warming temperatures.
"Old forests play a really important role in regulating the carbon cycle as well as the water cycle," said Nicolas Zegre, associate professor of hydrology at West Virginia University.
"Given the increase in rainfall and increase in flooding that we've seen, we need the Forest Service to be laser-focused on reducing flooding," Coleman said. "And clear-cutting [on] these steep slopes is not helpful."
In its objection to the project, the Horseshoe Community Group indicated disadvantaged communities would be disproportionately impacted by the clear-cutting.
Nationally, much of the project area is in the 90th percentile or higher in flood risk. Much of the area also is in the 80th percentile or above in unemployment rate and transportation access, according to a federal environmental justice mapping tool. The area's profile suggests a lack of resources to contend with or move away from flood events.
But the Upper Cheat River project area isn't the only neck of West Virginia's woods stressed by federally backed resource extraction projects.
As Suzanne Vance drove her Honda Ridgeline near her Lewis County farm under heavy clouds on a gray May morning, signs warning "high water" and "low water bridge" along Oil Creek Road backed up her observation that the area is flood-prone.
"We're really in the boonies," Vance said. "This whole area floods."
Vance says deforestation and mountain removal to clear way for the Mountain Valley Pipeline in the headwater valley of Second Big Run nearby have wreaked havoc on the farm that has been in her family for 120 years.
After recalling four major and many smaller floods in the past five years since she says tree-clearing for the project began, Vance sat in her truck and thought of her 32-year-old daughter and 27-year-old son.
"My main concern is the younger generations," Vance said.
She thought of Hurricane Ian, which resulted in over 150 deaths and more than $112 billion in damage in September, making it the costliest hurricane in Florida's history.
"Infrastructure's collapsing," Vance said.
Vance has warned the lead federal agency overseeing the Mountain Valley Pipeline of her concerns, sending them photos documenting landslides and other signs of erosion, poor drainage, buckled wetland timber mats, and pipe left sitting and sinking in mud.