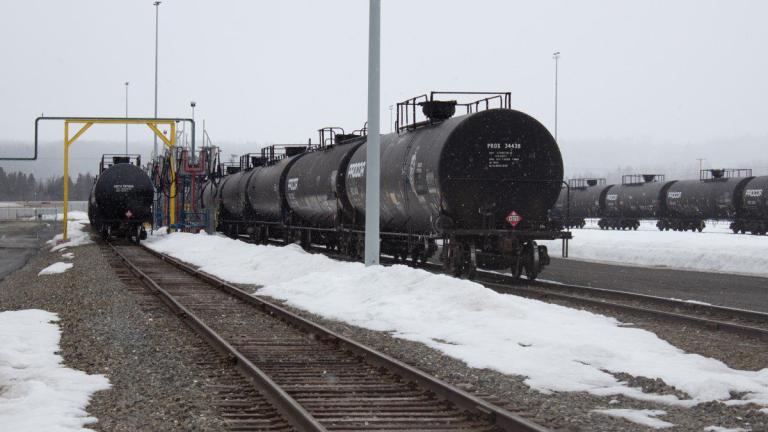 Photo Credit
Annie Ropeik
This story by ESI Journalism Fellow Annie Ropeik was originally published as part of the Hooked on Heating Oil series by The Maine Monitor, where it appears with additional photos and resources.
__________
Maine relies on home heating oil more than any other state. Ending that costly dependence could improve lives and fight climate change, but it won't be easy.
 
A portable camp heater glows orange in Vance Emery and Michelle Durrell-Emery's dining room in Calais, a few blocks from the Canadian border. The heater runs on a small tank of propane in the bushes outside, piped in through a hole sealed with tape in the window above. 
"I don't want to say archaic," Emery said, "but I mean, literally, this is what you do up the camp." 
This family of seven also has an oil-fired furnace in the cellar, but has gone to great lengths to avoid using oil this winter after getting just one partial refill late last year.
"It was $400, and that was for one week. We burned it all in one week," said Durrell-Emery, standing in her kitchen in late March. "I'm like, 'we can't do this.' " The family didn't pay to get the tank refilled again this season. 
Three of every five Maine households keep warm in cold winters with some form of fuel oil. That's more than any other state. 
Oil is a powerful heat source, but its costs can be high and volatile. Heavy reliance on it has implications for family budgets, human health, local economies and the worldwide climate crisis. 
As the rest of the state's economy shrinks its carbon footprint in an effort to meet aggressive emissions-cutting goals, residential emissions — driven largely by oil use — are flat or growing. In the meantime, the cost of oil is feeling increasingly untenable for some Mainers. 
Last fall, the war in Ukraine pushed New England oil prices to record highs, near $6 a gallon. Demand for emergency heating aid spiked, and Maine lawmakers rushed to issue relief funds. 
Residents are increasingly looking to cut back on oil use with alternatives such as electric heat pumps that are a focus of state climate policy, new kinds of wood-based fuels seen as a climate solution by Maine oil companies, or even just intensive home weatherization. 
Each change comes with challenges: rising electric bills, long waits for contractors, high up-front costs even with generous state rebates, and potential environmental trade-offs. 
But some scientists and energy experts see Maine's oil transition as an opportunity that could transform lives in more ways than one — saving money and creating more resilient homes, while helping to mitigate a future of rising seas and worsening storms. 
"Heating fuel is entwined throughout our lives and our economy. Any time you start to unweave a thread like that, it gets complicated," said Kathleen Meil, the senior policy director at Maine Conservation Voters and co-chair of the housing arm of the state Climate Council. 
But, she said, "it's absolutely something we can do. … There's a way that we can make strides on all of those fronts at the same time." 
Why Maine, why oil? 
Maine's reliance on oil has its roots in geography. The average winter temperature across the state is in the low 20s, and the heating season is long, with fall and spring averages in the 40s. 
Before the Industrial Revolution began in the late 18th century, Maine kept warm solely with wood. Coal came next, delivered through chutes that can still be seen on the exteriors of older buildings, and was burned in stoves that required stoking and tending much like a wood stove. 
The first oil boilers were introduced in the early 1900s, and a coal shortage during World War I helped them gain favor, according to research by the heating industry historian Bernard Nagengast.
"Oil is a great kind of source for energy," said MIT energy economist Chris Knittel, who directs the school's Center for Energy and Environmental Policy and Research, founded during the energy crisis of the 1970s. "What we want to see in an energy product is that it's dense, right? So it has a lot of energy per unit. And … of course, in the 1800s, we were using a lot of wood and coal to heat homes, and relative to coal, oil was cleaner." 
Oil also has logistical advantages, he said — easier to extract than coal and easier to move than gas. And it can share its distribution system with the diesel fuel that powers factories and vehicles. (No. 2 heating oil is basically the same substance as diesel, just regulated separately.) 
"What we don't like about oil is the local pollution and the global pollution," Knittel said. "That's why we're trying to move off of oil, at least for climate change reasons." 
Other states that use a lot of heating oil per capita (Vermont, New Hampshire and Connecticut) or by volume (New York, Pennsylvania and Massachusetts) have increasingly turned to natural or fossil gas as a relatively lower-emissions fuel option. Pipelines to deliver gas to homes in these and other states proliferated after World War II — but never reached far into Maine. 
Maine's sprawling geography and low population density have squashed perennial efforts to build out gas much beyond the southern tip of the state. Other states that have become more dependent on it as an oil alternative have smaller areas or closer access to gas supplies.