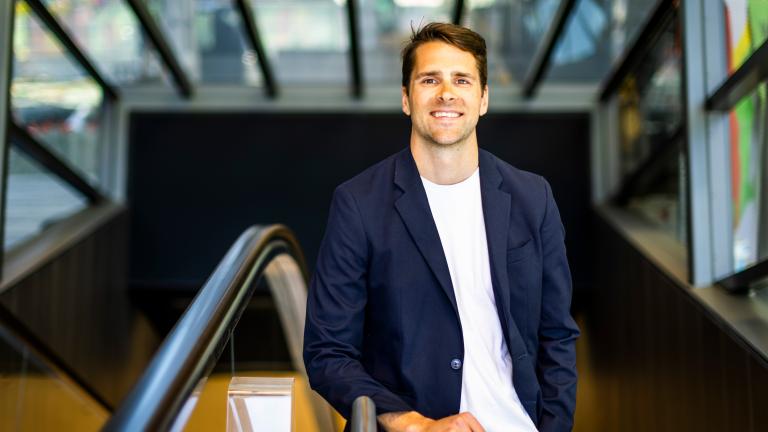 Photo Credit
Photo: Adam Glanzman
Laura Rosado
After graduating from college, Nick Caros took a job as an engineer with a construction company, helping to manage the building of a new highway bridge right near where he grew up outside of Vancouver, British Columbia.  
"I had a lot of friends that would use that new bridge to get to work," Caros recalls. "They'd say, 'You saved me like 20 minutes!' That's when I first realized that transportation could be a huge benefit to people's lives."
Now a PhD candidate in the Urban Mobility Lab and the lead researcher for the MIT Transit Research Consortium, Caros works with seven transit agencies across the country to understand how workers' transportation needs have changed as companies have adopted remote work policies.
"Another cool thing about working on transportation is that everybody, even if they don't engage with it on an academic level, has an opinion or wants to talk about it," says Caros. "As soon as I mention I've worked with the T, they have something they want to talk about."
Caros is drawn to projects with social impact beyond saving his friends a few minutes during their commutes. He sees public transportation as a crucial component in combating climate change and is passionate about identifying and lowering the psychological barriers that prevent people around the world from taking advantage of their local transit systems.
"The more I've learned about public transportation, the more I've come to realize it will play an essential part in decarbonizing urban transportation," says Caros. "I want to continue working on these kinds of issues, like how we can make transportation more sustainable or promoting public transportation in places where it doesn't exist or can be improved."
Caros says he doesn't have a "transportation origin story," like some of his peers who grew up in urban centers with robust public transit systems. As a child growing up in the Vancouver suburbs, he always enjoyed the outdoors, which were as close as his backyard. He chose to study engineering as an undergraduate at the University of British Columbia, fascinated by the hydroelectric dams that supply Vancouver with most of its power. But after two projects with the construction company, the second of which took him to Maryland to work on a fossil fuel project, he decided he needed a change.
Not quite sure what he wanted to do next, Caros sought out the shortest master's program he could find that interested him. That ended up being an 18-month master's program in transportation planning and engineering at New York University. Initially intending to pursue the course-based program, Caros was soon offered the chance to be a research assistant in NYU's Behavioral Urban Informatics, Logistics, and Transport Laboratory with Professor Joseph Chow. There, he worked to model an experimental transportation system of modular self-driving cars that could link and unlink with each other while in motion.
"It was this really futuristic stuff," says Caros. "It turned out to be a really cool project to work on because it's kind of rare to have a blank-slate problem to try and solve. A lot of transportation engineering problems have largely been solved. We know how to make efficient and sustainable transportation systems; it's just finding the political support and encouraging behavioral change that remains a challenge."
At NYU, Caros fell in love with research and the field of transportation. Later, he was drawn to MIT by its interdisciplinary PhD program that spans both urban studies and planning and civil engineering and the opportunity to work with Professor Jinhua Zhao.
His research focuses on identifying "third places," locations where some people go if their job gives them the flexibility to work remotely. Previously, transportation needs revolved around office spaces, typically located in city centers. With more people working from home, the first assumption is that transportation needs would decrease. But that's not what Caros has found.
"One major finding from our research is that people have changed where they're going when they go to work," says Caros. "A lot of people are working from home, but some are also working in other places, like coffee shops or co-working spaces. And these third places are not evenly distributed in Boston."
Identifying the concentration of these third places and what locations would benefit from them is the core of Caros' dissertation. He's building an algorithm that identifies ideal locations to build more shared workplaces based on both economic and social factors. Caros seeks to answer how you can minimize travel time across the board while leaving room for the spontaneous social interactions that drive a city's productivity. His research is sponsored by seven of the largest transit agencies in the United States, who are members of the MIT Transit Research Consortium. Rather than a single agency sponsoring a single specific project, funding is pooled to tackle projects that address general topics that can apply to multiple cities.
These kinds of problems require a multidisciplinary approach that appeals to Caros. Even when diving into the technical details of a solution, he always keeps the bigger picture in mind. He is certain that changing people's views of public transportation will be crucial in the fight against climate change.
"A lot of it is not necessarily engineering, but understanding what the motivations of people are," says Caros. "Transportation is a leading sector for carbon emissions in the U.S., and so figuring out what makes people tick and how you can get them to ride public transit more, for example, would help to reduce the overall carbon cost."
Following the completion of his degree, Caros will join the Organization for Economic Cooperation and Development. He already spent six months at its Paris headquarters as an intern during a leave from MIT, something his lab encourages all of its students to do. Last fall, he worked on drafting policy guidelines for new mobility services such as vehicle-share scooters, and addressing transportation equity issues in Ghana. Plus, living in Paris gave him the opportunity to practice his French. Growing up in Canada, he attended a French immersion school, and his internship offered his first opportunity to use the language outside of an academic context.
Looking forward, Caros hopes to keep tackling projects that promote sustainable public transportation. There is an urgency in getting ahead of the curve, especially in cities experiencing rapid growth.
"You kind of get locked in," says Caros. "It becomes much harder to build sustainable transportation systems after the fact. But it's really just a geometry problem. Trains and buses are a way more efficient way to move people using the same amount of space as private cars."