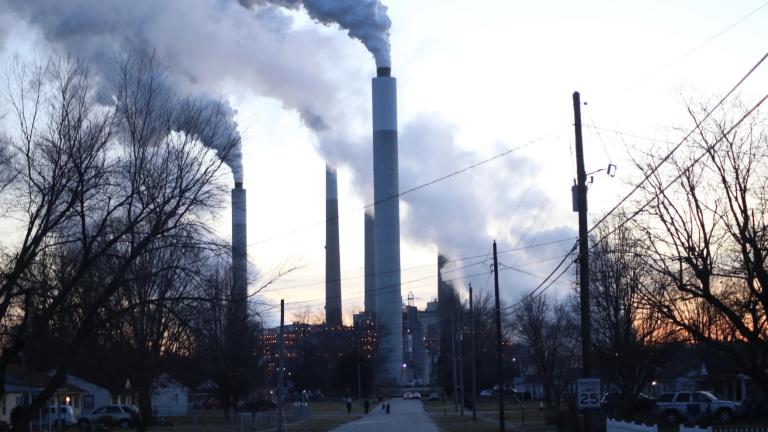 Photo Credit
Ryan Van Velzer | LPM
This story by ESI Journalism Fellow Ryan Van Velzer was originally published as part of the Louisville Public Media's "Coal's Dying Light" series, where it appears with additional photos and resources.
__________
Electric utilities in Kentucky plan to reduce carbon emissions and expand renewable generation in the coming years, but fossil fuels will continue to play a prominent role for a decade or longer.
Utility executives in Kentucky are planning the future of electricity generation in the warmth of coal's dying light.
Kentucky remains one of the top five coal-burning states and among the worst for solar and wind production. Historically, coal provided nearly all of the state's electricity, but that's changing as older plants become more costly to operate.
The state's electric utilities have mostly traded coal power for natural gas, a fossil fuel that releases less carbon into the atmosphere, but is also prone to leaking another potent greenhouse gas — methane.
In the coming years, all six major electric utilities in Kentucky are adding some combination of solar, wind and battery storage to their generation portfolios, but with trepidation, and at a slower pace than many other states in the country. So they're also counting on fossil fuels.
"Currently, renewable energy alone cannot meet the around-the-clock energy needs of our customers, particularly in the winter," said Chris Whelan, Vice President of Communications for LG&E and KU. "However, we expect renewables like solar to play an important part of our energy portfolio alongside flexible generation resources."
Utilities in Kentucky are nervous about the changing energy landscape. Despite the strides made in solar and wind power, they remain skeptical that renewables are affordable and reliable enough to power their service areas. Instead, they're hedging their bets with fossil fuels and crossing their fingers for a technological breakthrough that will help them achieve their carbon reduction pledges.
For this story, LPM News surveyed and reviewed hundreds of pages of records for every major electric utility in Kentucky including Louisville Gas & Electric and Kentucky Utilities, Duke Energy, Kentucky Power, Big Rivers Electric Corp., East Kentucky Power Cooperative and the Tennessee Valley Authority. Big Rivers was the only utility that declined to respond.
'No regrets'
Nearly a quarter of the country's remaining coal fleet is set to retire by 2029. Utilities in Kentucky anticipate closing more than a dozen coal units in the next 15 years. These older, less efficient units face higher operating and maintenance costs making them less competitive when compared to new technologies.
In the midst of this energy transition, the state's largest utility is planning on a future with no regrets. LG&E and KU executives told state regulators they are hedging against "regret" in a rapidly transforming world, according to testimony in an ongoing case before the Kentucky Public Service Commission.
In early July, average global temperatures reached the hottest ever recorded several days in a row. Dangerous heat waves spread across the South. Marine heatwaves are spreading across the oceans. Sea ice around Antarctica is reaching record lows, hundreds of wildfires are disrupting Canada's economy and spreading toxic air pollution all the way into Kentucky.
But when utility executives talk about avoiding regret in a rapidly transforming world, they're not talking about how additional carbon emissions will affect future generations. They're not talking about electricity generation's contribution to the climate crisis. They're talking about preserving affordable, reliable electricity for their ratepayers while accounting for future changes in regulation and technology.
For example, LG&E and KU, are proposing two new natural gas power plants; each with a decades-long lifespan at a combined cost of $1.36 billion dollars to be paid for by ratepayers who have little say in where their power comes from.
Dozens of Kentuckians have written comments to state utility regulators opposing the new gas plants. Many cited the climate crisis and asked the utility to more swiftly phase out fossil fuels.
"I am a grandparent who has been watching the development of more frequent and severe weather events with fear for my grandchildren," wrote Ray Barry from Lexington. "There is no time to waste. New gas fired plants will either become stranded assets [or], in the meantime, worsen global warming."
But in testimony to state regulators, LG&E and KU Vice President David Sinclair said he doesn't think those new gas plants would cause any "material regret." In this case, he means economic regret, i.e. bad investments.
"It is hard to see how any plausible broad-based CO2 regulations or new generation technology that would be commercially deployable at scale would cause material regrets any time in the foreseeable future or would justify forgoing the benefits the proposed resource portfolio will provide for decades to come," Sinclair said in testimony to utility regulators.
It's important to note that state regulators at the Kentucky Public Service Commission are legally required to balance the interests of utilities and customers, and there is nothing in state law that allows regulators to directly address the environmental harm or benefit of future power generation.
Diverse portfolios for an uncertain future
LG&E and KU's "no regrets" power generation portfolio would cut coal power by a third by 2030, bolster the company's renewables and split the difference with natural gas. The net result would reduce carbon emissions by about 23% compared to 2021 levels. Coal would remain the utility's primary source of electricity, followed by natural gas and a modest increase in renewables: From less than 1% of LG&E's total generation capacity to about 9%.
Utilities across Kentucky have similar plans to diversify their energy portfolios in the face of an uncertain future.
Kentucky Power, which electrifies much of eastern Kentucky, plans to end its contract with the coal-fired Mitchell Plant in 2028, add a new gas plant and extend the life of the Big Sandy gas plant through 2041. The utility also plans to add a significant amount of wind and solar through 2037 and some battery storage by 2035.
Duke Energy, which covers a portion of northern Kentucky, plans to retire the East Bend Generating Station coal plant in 2035 and increase its renewable portfolio to 22% by that time.   
Big Rivers Electric Corp., which powers part of western Kentucky, is converting its coal-generating plants into natural gas plants. It will keep at least one coal plant operating for the foreseeable future, and idle two more. It's also planning on adding a small amount of new solar capacity and will maintain a current hydro electric project. 
The Tennessee Valley Authority, which powers counties in the southern part of the state, has the cleanest portfolio of the state's utilities. It received about 57% of its electricity from renewable sources. Mostly from nuclear, about 12% from hydroelectric and another 3% from wind and solar as of 2020. TVA plans to retire the Tennessee Bull Run coal plant at the end of the year. Over the next 15 years, it's planning to add a significant amount of natural gas and solar power, according to its latest integrated resource plan, or IRP.
"We are moving toward a renewable energy future. And for now, that includes technology like natural gas that helps us get there. But you know, we're already planning to add 10,000 megawatts of solar energy in the next decade," said Scott Brooks, TVA spokesperson.
East Kentucky Power Cooperative, which provides electricity to 16 member-owned cooperatives and about 1.1 million Kentucky residents and businesses, has the weakest carbon reduction plans of any utility in the state.
"EKPC is concerned about future reliability of the interconnected electric system and believes that conventional generation resources will continue to be required to facilitate the transition to renewable and low/no carbon emitting resources," the utility wrote to regulators.
About 6% of EKPC's energy portfolio comprises renewable sources currently, though the cooperative told regulators it will supplement any future needs by purchasing solar power through third-party agreements.
EKPC told regulators in long-term plans filed with state regulators that it has enough power to meet the needs of its customers for the foreseeable future, but plans to remain "flexible," according to its 2022 IRP.