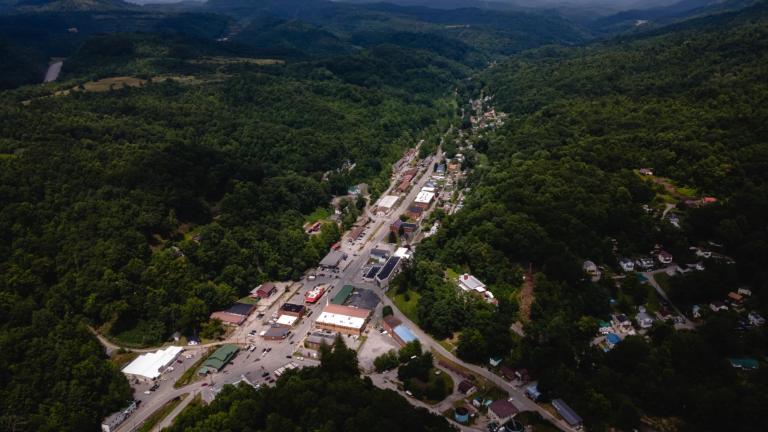 Photo Credit
Jon Cherry | LPM
This story by ESI Journalism Fellow Ryan Van Velzer was originally published as part of the Louisville Public Media's "Coal's Dying Light" series, where it appears with additional photos and resources.
__________
Coal communities across the country are struggling to adapt as the nation transitions away from the dirtiest fossil fuel. Now, a historic amount of federal funding is available to help diversify their economies and aid in the transition to a low carbon future as long as the money can get in local hands.
Like many towns across Appalachia, coal left Jenkins behind a long time ago.
Mayor Todd DePriest calls it "the city built on coal." Mines literally ran underneath and all around it, but the last coal company to mine nearby closed in 1988.
"Coal's still on everybody's mind," he said. "I guess people let go a little different than others."
The coal taxes that once helped fund city services have dwindled. The population is a fraction of what it was. Then, last July, historic flooding destroyed about 100 homes in the community and killed dozens of people across the region. A year later, DePriest is still working to get residents back in their homes.
"I have to brag on the people of Jenkins. They've had real patience," he said. "I know that is going to run out, and I'm hoping they see some real progress with what we've been working on."
Nearly 15 million Americans live in communities impacted by coal mine and power plant closures, according to an LPM News analysis. Nearly three-quarters of them make less than the national median household income.
The largest concentration of closures runs through the Appalachian Mountains spanning from Alabama to Pennsylvania. Central Appalachia, including parts of West Virginia, Kentucky, Virginia and Ohio, is among the hardest hit.
Coal production peaked in the U.S. in 2008, but many of the Appalachian communities that are dependent on the coal industry have been in decline for decades, and are in search of a new economic future.
"This problem is really big," said Rachael Young, who works for the Just Transition Fund, a nonprofit promoting equitable, low-carbon solutions for coal communities. "Most of these are rural communities that have existing economic distress that the closure of these coal plants exacerbates and contributes to."
These energy communities across the U.S. are on the losing end of a decades-long transition away from coal, but a historic amount of federal funding is now available to help revitalize them. Federal legislation passed during the Biden Administration includes more than $900 billion to help U.S. energy communities like Jenkins.
"The level of federal investment is just truly, truly historic, and the window will close," Young said. "And it's really important to take full advantage of the opportunity to make sure that it gets to the people and places that really need it the most."
The money is there. How do communities like Jenkins get a piece of it?
Connecting the federal to the local
Between the Bipartisan Infrastructure Law and the Inflation Reduction Act, federal agencies set aside more than $900 billion to transform energy communities like those in Appalachia, according to the Interagency Working Group on Coal and Power Plant Communities and Economic Revitalization.
"If we have a mine or any coal infrastructure or a power plant that has closed its doors, there's billions of dollars there for investments in those facilities, again creating jobs where they have historically been," said Working Group Executive Director Brian Anderson.
The infrastructure deal includes funding to help rebuild the country's roads and bridges, improve air and seaports, expand access to high speed internet and clean drinking water. The Inflation Reduction Act represents the largest congressional action ever taken to address the climate crisis. It includes funding to expand renewable energy and clean up sites once used for fossil fuel extraction.
There are hundreds of competitive grants and loans, clean energy and manufacturing tax credits, and state and tribal funding opportunities. There's more than $35 million to help farmers and small businesses buy solar systems and make energy efficiency improvements; Tens of millions of dollars in ongoing funding to clean up abandoned mine lands; a direct loan program to assist people in poverty purchase housing in rural areas; and funding for small towns to improve their drinking water and sewage systems.
Anderson, who was born and raised in West Virginia, said his own grandfather was displaced by changing economic conditions when the coal mines shifted toward mechanization decades ago.
"We want to make sure that the communities where jobs might be displaced have the opportunity to see those investments and participate actively in the manufacturing sector that will underpin the coming energy transition," he said. "It comes down to not leaving these communities behind."
Anderson and other federal experts say the key to success for these communities depends on economic diversification. There's no silver bullet, but by providing a number of pathways for communities to make their own decisions, the economies in these regions can transform, he said.
For eastern Kentucky, Anderson thinks that will involve the expansion of rural broadband, spurring investment in the region's industrial parks, participating in the supply chains of the large manufacturers headed to the region, redeveloping retired power plants, developing renewable energy like wind and solar, promoting tourism and cleaning up the environmental pollution left behind at abandoned mines, and oil and gas sites across the region.
"It's about time that we start investing in those communities that have really driven our economy for the last century," Anderson said.
Getting the first grant
The federal funding itself is the first half of an uphill battle that now relies on coal communities learning about and accessing the funding needed for improvements. Hiring a grant writer costs money that many city governments don't have, and some of the application processes can be involved.
The Appalachian Regional Commission is among the nonprofits stepping in to act as liaisons between the federal government and local communities. The commission offers its own grants, as well as training and technical assistance to local governments, nonprofits and development districts.
"In most cases it's getting that first grant," said Gayle Manchin, federal co-chair for the Appalachian Regional Commission who's married to Sen. Joe Manchin of West Virginia. "Once you get the first grant then you kind of feel like you know what you are doing."
In May, federal officials held a community forum designed to help rural communities find the resources they need to create jobs, build infrastructure and support long-term economic prosperity in the region using available federal funding.
It was kind of like speed dating for government funding. People took their ideas to representatives from all these different agencies looking for a good match. Rather than drink from the firehouse of grants.gov, they offered personalized advice to people on how to best match ideas and funding.
The Rural Partners Network, the U.S. Department of Agriculture, the Department of Energy, Veterans Affairs, the Environmental Protection Agency, Federal Emergency Management Agency, Economic Development Administration and the Energy Communities Interagency Working Group were among the organizations present.
Local community leaders talked about their successes revitalizing their communities using low-interest loans and grants. Redevelopment agencies pitched their ideas to federal liaisons and a bipartisan group of state leaders — including Democratic Gov. Andy Beshear's senior advisor Rocky Adkins — came to show their support.
"I'm here as somebody that was impacted by the downturn of the coal economy," Adkins said. "We're not asking for a handout. We're asking for what we've earned and deserved. Eastern Kentucky helped rebuild America, it's America's time to help rebuild eastern Kentucky."
Republican state Sen. Johnnie Turner of Harlan also attended the session in May. He told LPM News he blames the Biden Administration's environmental policies for the decline of coal in the region. Nonetheless, Turner said he was glad to see federal liaisons meeting with community leaders and funding revitalization efforts.
"I mean, it's blessed to happen here and to put everybody on the same page to start working towards helping," Turner said.