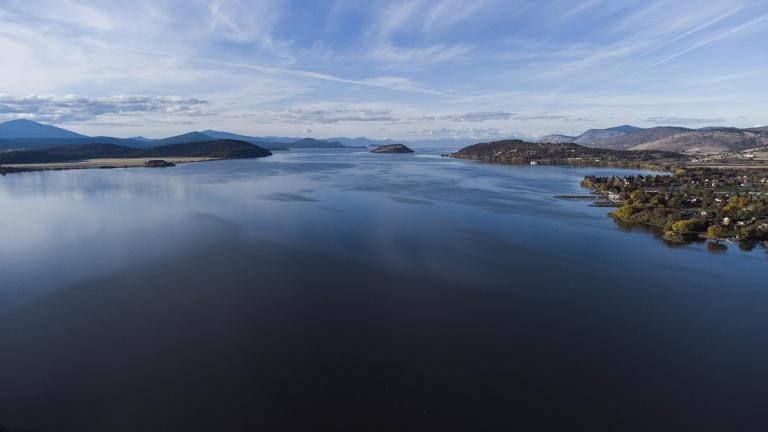 Photo Credit
Arden Barnes, Herald and News
This story by ESI Journalism Fellow Alex Schwartz was originally published as part of the Project Klamath interactive website by the Herald & News, where it appears with additional photos and resources.
___________
On November 5, 1922, in the volcanic scrublands just south of the Oregon-California border, a group of people gathered on a hill above the Klamath River to celebrate a newly minted, 126-foot wall of concrete.
A local band played "America the Beautiful" and the American flag unfurled from a flagpole on the dam. Soldiers fired a salute from atop the mountain. The attendees had a picnic and local officials made speeches praising the utility bringing large-scale hydroelectric power generation to the area. At the time, the Siskiyou Daily News called the project "one of the largest hydroelectric power plants in the world," able to produce 12,500 kilowatts of energy.
At the end of the event, the daughter of the California Oregon Power Company's board chairman flipped a switch, turning the generator on and feeding the power of the Klamath River into the regional grid. Copco Dam was officially in operation.
The newspaper paraphrased a Yreka judge who told a romantic story of development in the region, of how white American settlement had progressed the area by leaps and bounds. Horses had been upgraded to oxen and then to cars in a matter of decades. And thanks to the booming development of hydropower, the sky would be the limit.
"It is but a matter of a few years until we will be coming to the Copco picnics and future dedicatory ceremonies flying through the air," the article read.
But one community's progress was another's decline. The dam almost perfectly bisected the Klamath Basin, and due to its height, it wasn't feasible to construct fish passage infrastructure at the dam. Salmon lost access to hundreds of miles of spawning habitat in the tributaries to Upper Klamath Lake.
A June 1921 article in the Klamath Evening Herald had pointed out that the watershed was at a crossroads. Would it become a major hydropower-producing stream or California's salmon stronghold?
"Along with it is the problem (of) whether the need for electricity ranks higher in the law than a food supply for the Indians," the article read.
Fast forward 100 years, and the Klamath is known for neither an abundance of hydropower nor an abundance of salmon.