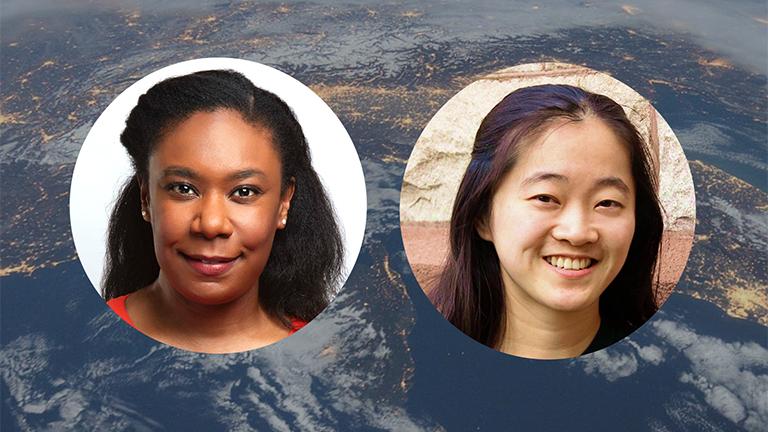 Kendra Pierre-Louis '16, climate reporter for The New York Times, and Lisa Song '09, a science and climate reporter for ProPublica, are both alumna of the MIT Graduate Program in Science Writing. SHASS Communications interviewed Pierre-Louis and Song shortly after their recent visit as the featured speakers at an MIT Communications Forum event titled "Can Journalists Save the Earth?" 
Excerpts from the Interview
"As a journalist, my role is to inform people about what is happening in the world, and that ranges from documenting what is already taking place because of climate change, to detailing scientific analyses in terms regular people can understand, to holding truth to power, and getting people to understand what their governments are doing."  
— Kendra Pierre-Louis SM'16, climate reporter, The New York Times
"We have the technologies and science to dramatically reduce greenhouse gas emissions, so progress ultimately depends on political will...The Democratic candidates for president have proposed more sweeping climate strategies than we've ever seen. Whatever you think of these tactics and plans, they're clearly changing how we discuss global warming and the need for real change."  
— Lisa Song, SM'09, science/climate reporter, ProPublica
About the journalists
Kendra Pierre-Louis, SM'16 is a climate reporter for The New York Times and the author of Green Washed: Why We Can't Buy Our Way to a Green Planet. Previously she was a staff writer for Popular Science, and her writing has also appeared in FiveThirtyEight, The Washington Post, Newsweek, Modern Farmer, and Slate.
Lisa Song, SM'09 is an investigative climate/environment reporter at ProPublica and the co-author of "The Dilbit Disaster," which won a Pulitzer for national reporting. She joined ProPublica in 2017 after six years at InsideClimate News, where she was on the team that revealed Exxon's shift from conducting global warming research to supporting climate denial.
 
Suggested Links
MIT Graduate Program in Science Writing
"Politics and the English Language," by George Orwell
About the Essay  |  Audio Recording