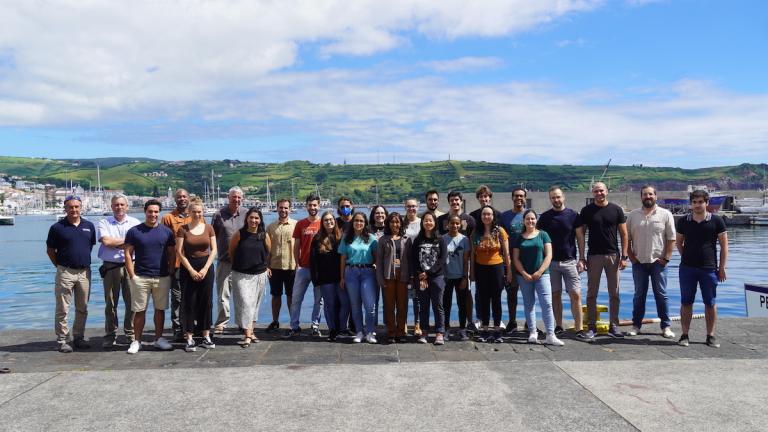 Photo Credit
Photo: Beatriz Mendes da Silva
Lisa Capone
Successful relationships take time to develop, with both parties investing energy and resources and fostering mutual trust and understanding. The MIT Portugal Program (MPP), a strategic partnership between MIT, Portuguese universities and research institutions, and the Portuguese government, is a case in point.
Portugal's inaugural partnership with a U.S. university, MPP was established in 2006 as a collaboration between MIT and the Portuguese Science and Technology Foundation (Fundação para a Ciência e Tecnologia, or FCT). Since then, the program has developed research platforms in areas such as bioengineering, sustainable energy, transportation systems, engineering design, and advanced manufacturing. Now halfway through its third phase (MPP2030, begun in 2018), the program owes much of its success to the bonds connecting institutions and people across the Atlantic over the past 17 years.
"When you look at the successes and the impact, these things don't happen overnight," says John Hansman, the T. Wilson Professor of Aeronautics and Astronautics at MIT and co-director of MPP, noting, in particular, MPP's achievements in the areas of energy and ocean research, as well as bioengineering. "This has been a longstanding relationship that we have and want to continue. I think it's been beneficial to Portugal and to MIT. I think you can argue it has made substantial contributions to the success that Portugal is currently experiencing both in its technical capabilities and also its energy policy."
With research often aimed at climate and sustainability solutions, one of MPP's key strengths is its education of future leaders in science, technology, and entrepreneurship. And the program's impacts carry forward, as several former MPP students are now on the faculty at participating Portuguese universities.
"The original intent of working together with Portugal was to try to establish collaboration between universities and to instill some of the MIT culture with the culture in Portugal, and I think that's been hugely successful," says Douglas Hart, MPP co-director and professor of mechanical engineering at MIT. "It has had a lot of impacts in terms of the research, but also the people."
One of those people is André Pina, associate director of H2 strategy and origination at the company EDP, who was in residence at MIT in 2014 as part of the MPP Sustainable Energy Systems Doctoral Program. He says the competencies and experiences he acquired have been critical to his professional development in energy system planning, have influenced his approach to problem solving, and have allowed him to bring "holistic thinking" to business endeavors.
"The MIT Portugal Program has created a collaborative ecosystem between Portuguese universities, companies, and MIT that enabled the training of highly qualified professionals, while contributing to the positioning of Portuguese companies in new cutting-edge fields," he says.
Building on MPP's previous successes, MPP2030 focuses on advancing research in four strategic areas: climate science and climate change; earth systems from oceans to near space; digital transformation in manufacturing; and sustainable cities — all involving data science-intensive approaches and methodologies. Within these broad scientific areas, FCT funding has enabled seven collaborative large-scale "flagship" projects between Portuguese and MIT researchers during the current phase, as well as dozens of smaller projects.
Flagship projects currently underway include:
·   C-Tech: Climate Driven Technologies for Low Carbon Cities
·   K2D: Knowledge and Data from the Deep to Space
·   NEWSAT
·   Operator: Digital Transformation in Industry with a Focus on the Operator 4.0
·   SNOB-5G: Scalable Network Backhauling for 5G
·   Transformer 4.0: Digital Revolution of Power Transformers
Sustainability plays a significant role in MPP — reflective of the value both Portugal and MIT place on environmental, energy, and climate solutions. Projects under the Sustainable Cities strategic area, for example, are "helping cities in Portugal to become more efficient and more sustainable," Hansman says, noting that MPP's influence is being felt in cities across the country and it is "having a big impact in terms of local city planning activities."
Regarding energy, Hansman points to a previous MPP phase that focused on the Azores as an isolated energy ecosystem and investigated its ability to minimize energy use and become energy independent.
"That view of system-level energy use helped to stimulate activity on the mainland in Portugal, which has helped Portugal become a leader in various energy sources and made them less vulnerable in the last year or two," Hansman says.
In the Oceans to Near Space strategic area, the K2D flagship project also emphasizes research into sustainability solutions, as well as resilience to environmental change. Over the past few years, K2D researchers in Portugal and MIT have worked together to develop components that permit cost-effective gathering of chemical, physical, biological, and environmental data from the ocean depths. One current project investigates the integration of autonomous underwater vehicles with subsea cables to enhance both environmental monitoring and hazard warning systems.
"The program has been very successful," Hart says. "They are now deploying a 2-kilometer cable just south of Lisbon, which will be in place in another month or so. Portugal has been hit with tsunamis that caused tremendous devastation, and one of the objectives of these cables is to sense tsunamis. So, it's an early warning system."
As a leader in ocean technology with a long history of maritime discovery, Portugal provides many opportunities for MIT's ocean researchers. Hart notes that the Portuguese military invites international researchers on board its ships, providing MIT with research opportunities that would be financially difficult otherwise.
Hansman adds that partnering with researchers in the Azores provides MIT with unique access to facilities and labs in the middle of the Atlantic Ocean. For example, Hart will be teaching at a marine robotics summer school in the Azores this July.
Cadence Payne, an MIT PhD candidate, is among those planning to attend. Through MPP's AEROS project, Payne has helped develop a modular "cubesat" that will orbit over Portugal's Exclusive Economic Zone collecting images and radio data to help define the ecological health of the country's coastal waters. The nanosatellite is expected to launch in late 2023 or early 2024, says Payne, adding that it will be Portugal's first cubesat mission.
"In monitoring the ocean, you're monitoring the climate," Payne says. "If you want to do work on detecting climate change and developing methods of mitigating climate change … it helps to integrate international collaboration," she says, adding that, for students, "it's been a really beautiful opportunity for us to see the benefits of collaboration."
"I would say one of the main benefits of working with Portugal is that we share many interests in research in the sense that they're very interested in climate change, sustainability, environmental impacts and those kinds of things," says Hart. "They have turned out to be a very good strategic partner for MIT, and, hopefully, MIT for them."