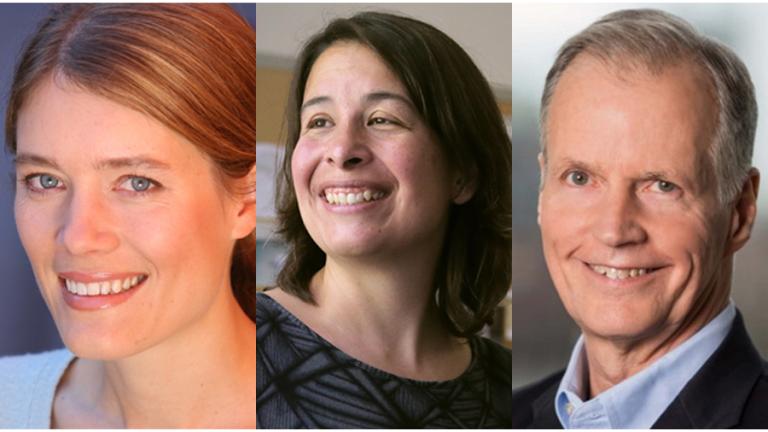 The MIT and Accenture Convergence Initiative for Industry and Technology has selected three new research projects that will receive support from the initiative. The research projects aim to accelerate progress in meeting complex societal needs through new business convergence insights in technology and innovation.
Established in MIT's School of Engineering and now in its third year, the MIT and Accenture Convergence Initiative is furthering its mission to bring together technological experts from across business and academia to share insights and learn from one another. Recently, Thomas W. Malone, the Patrick J. McGovern (1959) Professor of Management, joined the initiative as its first-ever faculty lead. The research projects relate to three of the initiative's key focus areas: sustainability, digital health, and the future of work.
"The solutions these research teams are developing have the potential to have tremendous impact," says Anantha Chandrakasan, dean of the School of Engineering and the Vannevar Bush Professor of Electrical Engineering and Computer Science. "They embody the initiative's focus on advancing data-driven research that addresses technology and industry convergence."
"The convergence of science and technology driven by advancements in generative AI, digital twins, quantum computing, and other technologies makes this an especially exciting time for Accenture and MIT to be undertaking this joint research," says Kenneth Munie, senior managing director at Accenture Strategy, Life Sciences. "Our three new research projects focusing on sustainability, digital health, and the future of work have the potential to help guide and shape future innovations that will benefit the way we work and live."
The MIT and Accenture Convergence Initiative charter project researchers are described below.
Accelerating the journey to net zero with industrial clusters
Jessika Trancik is a professor at the Institute for Data, Systems, and Society (IDSS). Trancik's research examines the dynamic costs, performance, and environmental impacts of energy systems to inform climate policy and accelerate beneficial and equitable technology innovation. Trancik's project aims to identify how industrial clusters can enable companies to derive greater value from decarbonization, potentially making companies more willing to invest in the clean energy transition.
To meet the ambitious climate goals that have been set by countries around the world, rising greenhouse gas emissions trends must be rapidly reversed. Industrial clusters — geographically co-located or otherwise-aligned groups of companies representing one or more industries — account for a significant portion of greenhouse gas emissions globally. With major energy consumers "clustered" in proximity, industrial clusters provide a potential platform to scale low-carbon solutions by enabling the aggregation of demand and the coordinated investment in physical energy supply infrastructure.
In addition to Trancik, the research team working on this project will include Aliza Khurram, a postdoc in IDSS; Micah Ziegler, an IDSS research scientist; Melissa Stark, global energy transition services lead at Accenture; Laura Sanderfer, strategy consulting manager at Accenture; and Maria De Miguel, strategy senior analyst at Accenture.
Eliminating childhood obesity
Anette "Peko" Hosoi is the Neil and Jane Pappalardo Professor of Mechanical Engineering. A common theme in her work is the fundamental study of shape, kinematic, and rheological optimization of biological systems with applications to the emergent field of soft robotics. Her project will use both data from existing studies and synthetic data to create a return-on-investment (ROI) calculator for childhood obesity interventions so that companies can identify earlier returns on their investment beyond reduced health-care costs.
Childhood obesity is too prevalent to be solved by a single company, industry, drug, application, or program. In addition to the physical and emotional impact on children, society bears a cost through excess health care spending, lost workforce productivity, poor school performance, and increased family trauma. Meaningful solutions require multiple organizations, representing different parts of society, working together with a common understanding of the problem, the economic benefits, and the return on investment. ROI is particularly difficult to defend for any single organization because investment and return can be separated by many years and involve asymmetric investments, returns, and allocation of risk. Hosoi's project will consider the incentives for a particular entity to invest in programs in order to reduce childhood obesity.
Hosoi will be joined by graduate students Pragya Neupane and Rachael Kha, both of IDSS, as well a team from Accenture that includes Kenneth Munie, senior managing director at Accenture Strategy, Life Sciences; Kaveh Safavi, senior managing director in Accenture Health Industry; and Elizabeth Naik, global health and public service research lead.
Generating innovative organizational configurations and algorithms for dealing with the problem of post-pandemic employment
Thomas Malone is the Patrick J. McGovern (1959) Professor of Management at the MIT Sloan School of Management and the founding director of the MIT Center for Collective Intelligence. His research focuses on how new organizations can be designed to take advantage of the possibilities provided by information technology. Malone will be joined in this project by John Horton, the Richard S. Leghorn (1939) Career Development Professor at the MIT Sloan School of Management, whose research focuses on the intersection of labor economics, market design, and information systems. Malone and Horton's project will look to reshape the future of work with the help of lessons learned in the wake of the pandemic.
The Covid-19 pandemic has been a major disrupter of work and employment, and it is not at all obvious how governments, businesses, and other organizations should manage the transition to a desirable state of employment as the pandemic recedes. Using natural language processing algorithms such as GPT-4, this project will look to identify new ways that companies can use AI to better match applicants to necessary jobs, create new types of jobs, assess skill training needed, and identify interventions to help include women and other groups whose employment was disproportionately affected by the pandemic.
In addition to Malone and Horton, the research team will include Rob Laubacher, associate director and research scientist at the MIT Center for Collective Intelligence, and Kathleen Kennedy, executive director at the MIT Center for Collective Intelligence and senior director at MIT Horizon. The team will also include Nitu Nivedita, managing director of artificial intelligence at Accenture, and Thomas Hancock, data science senior manager at Accenture.