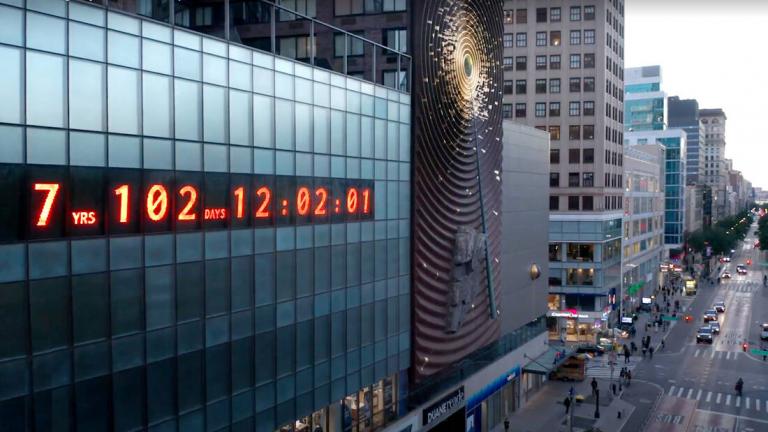 by Lowry Yankwich
The idea began with Boston's iconic CITGO sign. Susan Murcott, an environmental engineer and lecturer in MIT's D-Lab, had been noticing it for years.
Murcott's idea was this: if MIT wanted to raise awareness about the need for climate action, what better way to do so than with a massive public display, like the CITGO sign? The fact that the idea came from an oil company advertisement only added poetry. Murcott imagined a new sign for the 21st century – an unmissable Boston landmark announcing the importance not of fossil fuels, but of their elimination. And MIT could lead the charge. She introduced the idea to students in her "D-Lab: Water, Climate Change, and Health" course last spring, and several bit.
Since then, Murcott and a team of current students and alumni have been developing ideas for a public display at MIT to show solidarity with swift action to mitigate global climate change, focused first on this critical decade, 2020-2030.
"I just thought it was a really interesting idea," says Alejandro Diaz, one of the students who joined the group. "It combines some technical work – electrical engineering, the computational side – with solving problems for the environment."
Now they've landed on a concept that feels right: an MIT Climate Clock. In recent months, climate clocks have begun to proliferate across several prominent locations around the world – in Berlin, in New York City's Union Square. One is planned for the Louvre in Paris. Greta Thurnberg, the teenage Swedish climate activist, carries a hand-held version around with her.
The clocks show two numbers. One, the "deadline," is a countdown of how much time we have left, assuming current emission rates, before our global community runs through its carbon budget – the amount of carbon dioxide that can still be released into the atmosphere while limiting global warming to 1.5°C above pre-industrial levels. The second number is the "lifeline" – the percentage of the world's energy currently supplied by renewable sources. As of now, the deadline is roughly 7 years, and the lifeline is 27%.
"What I like is that it's combining the problem with the vision of the world we want to create," says Jillian James, an alumna who joined the team this summer. "When you're driving toward a goal, it's good to have some directional signs."
Embodying the ideal of collective action, the climate clock concept was originally the byproduct of a collaboration between artists, scientists and activists as part of "Beautiful Trouble," a project that describes itself as "a book, web toolbox and international network of artists-activist trainers whose mission is to make grassroots movements more creative and more effective." The project is open-source, Diaz notes, with a website that includes information on how to create a climate clock in your own community (see https://climateclock.world/make). Diaz has already embedded a climate clock widget on his personal website. Diaz believes that setting up a climate clock would be straightforward. "The only thing that would have to be figured out is the display," he writes.
Momentum for MIT to take bolder steps in declaring climate an emergency is building. Jim Gomes, Senior Advisor in the Office of the Vice President for Research, whose work focuses on the development of MIT's new Climate Action Plan, notes that MIT's recent Climate Symposia have drawn thousands of online participants. Gomes also anticipates that MIT's new Climate Action Plan, set for release next semester, will be more ambitious than the last, with more exacting goals for MIT to reduce its carbon footprint, and more money to pursue breakthrough research under the banner of "Climate Grand Challenges."
In decades past, MIT had been hesitant to advocate for particular policies or actions, preferring instead to leverage its clout as a source of objective and trusted scientific information. "MIT would rather put a 20-page scientific article out about exactly what needs to happen," says Diaz.
But the MIT Climate Clock team believes that change is in the air, and that the time to take a stand on climate is now.  "This year has been one continuous wake-up call to action," writes Murcott, pointing to wildfires in Australia, COVID, and widespread recognition of racial injustice in the United States as examples of disasters that have galvanized her desire to do something to improve the state of our world. 
"The MIT students, faculty, administration and wider community recognize all that is at stake," Murcott notes. "An MIT Climate Clock can be a visible, local and dramatic opportunity for MIT to educate a new generation of climate, energy and environmental innovators and to use our community as a test bed for change, as MIT's 2015 Climate Action Plan proposes."
"One of the beauties of this project is that it is science-based" says James, noting that the clock only displays two well-supported numbers. "It's hard to argue with that," says Gomes. 
The team's next step is to seek formal approval and support from within the Institution. Noting MIT's culture of hacks, Jim Gomes sees fewer barriers. "I'm a little surprised that anyone's worried about permission," he says.
The team plans to bring more students on board through the next iteration of Murcott's "D-Lab Water, Climate Change and Health" class, EC-719(U) / EC.789(G), this coming spring 2021. James and Diaz will help the class by serving as peer mentors for the MIT Climate Clock project.
The project embodies MIT's "Mind, Hand and Heart" motto, adds James. "It's science meets engineering for the good of humanity. This is what MIT is all about, so as a community, we will find a way to make it happen."
For those interested in joining the MIT Climate Clock team, contact Susan Murcott <murcott@mit.edu>, Jillian James <jillianj@mit.edu>, Alejandro Diaz <addiaz15@mit.edu>, or Lowry Yankwich <lyankwich@jd21.law.harvard.edu>.
Header image: "Monumental climate clock goes up in New York City," from https://climateclock.world/