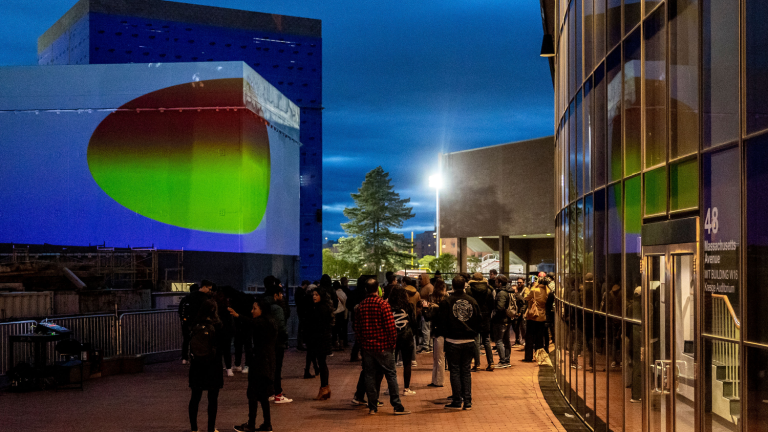 Photo Credit
Photo: Caitlin Cunningham
Caroline Perry
From reuse and recycling to new carbon markets, events during Earth Month at MIT spanned an astonishing range of ideas and approaches to tackling the climate crisis. The MIT Climate Nucleus offered funding to departments and student organizations to develop programming that would showcase the countless initiatives underway to make a better world.
Here are six — just six of many — ways the MIT community is making a difference on climate right now.
1. Exchanging knowledge with policymakers to meet local, regional, and global challenges
Creating solutions begins with understanding the problem.
Speaking during the annual Earth Day Colloquium of the MIT Energy Initiative (MITEI) about the practical challenges of implementing wind-power projects, for instance, Massachusetts State Senator Michael J. Barrett offered a sobering assessment.
The senate chair of the Joint Committee on Telecommunications, Utilities, and Energy, Barrett reported that while the coast of Massachusetts provides a conducive site for offshore wind, economic forces have knocked a major offshore wind installation project off track. The combination of the pandemic and global geopolitical instability has led to such great supply chain disruptions and rising commodity costs that a project considered necessary for the state to meet its near-term climate goals now faces delays, he said.
Like others at MIT, MITEI researchers keep their work grounded in the real-world constraints and possibilities for decarbonization, engaging with policymakers and industry to understand the on-the-ground challenges to technological and policy-based solutions and highlight the opportunities for greatest impact.
2. Developing new ways to prevent, mitigate, and adapt to the effects of climate change
An estimated 20 percent of MIT faculty work on some aspect of the climate crisis, an enormous research effort distributed throughout the departments, labs, centers, and institutes.
About a dozen such projects were on display at a poster session coordinated by the Abdul Latif Jameel Water and Food Systems Lab (J-WAFS), Environmental Solutions Initiative (ESI), and MITEI.
Students and postdocs presented innovations including:
3. Preparing students to meet the challenges of a climate-changed world
Faculty and staff from more than 30 institutions of higher education convened at the MIT Symposium on Advancing Climate Education to exchange best practices and innovations in teaching and learning. Speakers and participants considered paths to structural change in higher education, the imperative to place equity and justice at the center of new educational approaches, and what it means to "educate the whole student" so that graduates are prepared to live and thrive in a world marked by global environmental and economic disruption.
Later in April, MIT faculty voted to approve the creation of a new joint degree program in climate system science and engineering.
4. Offering climate curricula to K-12 teachers
At a daylong conference on climate education for K-12 schools, the attendees were not just science teachers. Close to 50 teachers of arts, literature, history, math, mental health, English language, world languages, and even carpentry were all hungry for materials and approaches to integrate into their curricula. They were joined by another 50 high school students, ready to test out the workshops and content developed by MIT Climate Action Through Education (CATE), which are already being piloted in at least a dozen schools.
The CATE initiative is led by Christopher Knittel, the George P. Shultz Professor of Energy Economics at the MIT Sloan School of Management, deputy director for policy at MITEI, and faculty director of the MIT Center for Energy and Environmental Policy Research. The K-12 Climate Action and Education Conference was hosted as a collaboration with the Massachusetts Teachers Association Climate Action Network and Earth Day Boston.
"We will be honest about the threats posed by climate change, but also give students a sense of agency that they can do something about this," Knittel told MITEI Energy Futures earlier this spring. "And for the many teachers — especially non-science teachers — starved for knowledge and background material, CATE offers resources to give them confidence to implement our curriculum."
5. Guiding our communities in making sense of the coming changes
The arts and humanities, vital in their own right, are also central to the sharing of scientific knowledge and its integration into culture, behavior, and decision-making. A message well-delivered can reach new audiences and prompt reflection and reckoning on ethics and values, identity, and optimism.
The Climate Machine, part of ESI's Arts and Climate program, produced an evening art installation on campus featuring dynamic, large-scale projections onto the façade of MIT's new music building and a musical performance by electronic duo Warung. Passers-by were invited to take a Climate Identity Quiz, with the responses reflected in the visuals. Another exhibit displayed the results of a workshop in which attendees had used an artificial intelligence art tool to imagine the future of their hometowns, while another highlighted native Massachusetts wildlife.
The Climate Machine is an MIT research project undertaken in collaboration with record label Anjunabeats. The collaborative team imagines interactive experiences centered on sustainability that could be deployed at musical events and festivals to inspire climate action.
6. Empowering students to seize this unique policy moment
ESI's TILclimate Podcast, which breaks down important climate topics for general listeners, held a live taping at the MIT Museum and offered an explainer on three recent, major pieces of federal legislation: the Inflation Reduction Act of 2022, the Bipartisan Infrastructure Bill of 2021, and the CHIPS and Science Act of 2022.
The combination of funding and financial incentives for energy- and climate-related projects, along with reinvestment in industrial infrastructure, create "a real moment and an opportunity," said special guest Elisabeth Reynolds, speaking with host Laur Hesse Fisher. Reynolds was a member of the National Economic Council from 2021 to 2022, serving as special assistant to the president for manufacturing and economic development; after leaving the White House, Reynolds returned to MIT, where she is a lecturer in MIT's Department of Urban Studies and Planning.
For students, the opportunities to engage have never been better, Reynolds urged: "There is so much need. … Find a way to contribute, and find a way to help us make this transformation."
"What we're embarking on now, you just can't overstate the significance of it," she said.
For more information on how MIT is advancing climate action across education; research and innovation; policy; economic, social, and environmental justice; public and global engagement; sustainable campus operations; and more, visit Fast Forward: MIT's Climate Action Plan for the Decade. The actions described in the plan aim to accelerate the global transition to net-zero carbon emissions, and to "educate and empower the next generation."