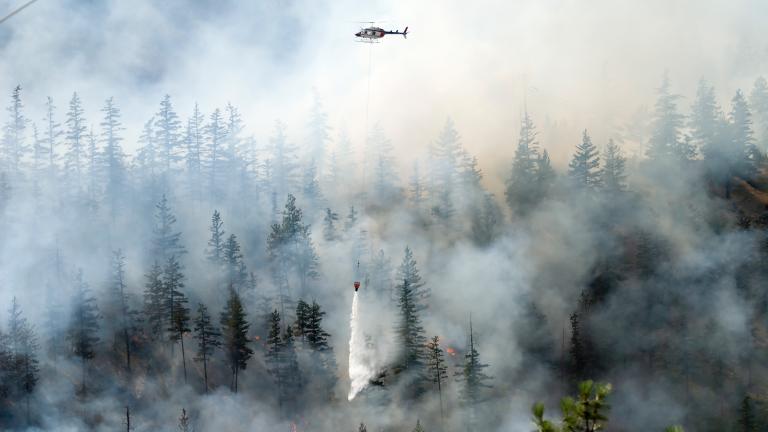 Photo Credit
Image: iStock
Jennifer Chu
Where there's smoke, there is fire. But with climate change, larger and longer-burning wildfires are sending smoke farther from their source, often to places that are unaccustomed to the exposure. That's been the case this week, as smoke continues to drift south from massive wildfires in Canada, prompting warnings of hazardous air quality, and poor visibility in states across New England, the mid-Atlantic, and the Midwest.
As wildfire season is just getting going, many may be wondering: Are the air-polluting effects of wildfires a new normal?
MIT News spoke with Professor Colette Heald of the Department of Civil and Environmental Engineering and the Department of Earth, Atmospheric and Planetary Sciences, and Professor Noelle Selin of the Institute for Data, Systems and Society and the Department of Earth, Atmospheric and Planetary Sciences. Heald specializes in atmospheric chemistry and has studied the climate and health effects associated with recent wildfires, while Selin works with atmospheric models to track air pollutants around the world, which she uses to inform policy decisions on mitigating  pollution and climate change. The researchers shared some of their insights on the immediate impacts of Canada's current wildfires and what downwind regions may expect in the coming months, as the wildfire season stretches into summer.  
Q: What role has climate change and human activity played in the wildfires we've seen so far this year?
Heald: Unusually warm and dry conditions have dramatically increased fire susceptibility in Canada this year. Human-induced climate change makes such dry and warm conditions more likely. Smoke from fires in Alberta and Nova Scotia in May, and Quebec in early June, has led to some of the worst air quality conditions measured locally in Canada. This same smoke has been transported into the United States and degraded air quality here as well. Local officials have determined that ignitions have been associated with lightning strikes, but human activity has also played a role igniting some of the fires in Alberta.
Q: What can we expect for the coming months in terms of the pattern of wildfires and their associated air pollution across the United States?
Heald: The Government of Canada is projecting higher-than-normal fire activity throughout the 2023 fire season. Fire susceptibility will continue to respond to changing weather conditions, and whether the U.S. is impacted will depend on the winds and how air is transported across those regions. So far, the fire season in the United States has been below average, but fire risk is expected to increase modestly through the summer, so we may see local smoke influences as well.
Q: How has air pollution from wildfires affected human health in the U.S. this year so far?
Selin: The pollutant of most concern in wildfire smoke is fine particulate matter (PM2.5) – fine particles in the atmosphere that can be inhaled deep into the lungs, causing health damages. Exposure to PM2.5 causes respiratory and cardiovascular damage, including heart attacks and premature deaths. It can also cause symptoms like coughing and difficulty breathing. In New England this week, people have been breathing much higher concentrations of PM2.5 than usual. People who are particularly vulnerable to the effects are likely experiencing more severe impacts, such as older people and people with underlying conditions. But PM2.5 affects everyone. While the number and impact of wildfires varies from year to year, the associated air pollution from them generally lead to tens of thousands of premature deaths in the U.S. overall annually. There is also some evidence that PM2.5 from fires could be particularly damaging to health.
While we in New England usually have relatively lower levels of pollution, it's important also to note that some cities around the globe experience very high PM2.5 on a regular basis, not only from wildfires, but other sources such as power plants and industry. So, while we're feeling the effects over the past few days, we should remember the broader importance of reducing PM2.5 levels overall for human health everywhere.
Q: While firefighters battle fires directly this wildfire season, what can we do to reduce the effects of associated air pollution? And what can we do in the long-term, to prevent or reduce wildfire impacts?
Selin: In the short term, protecting yourself from the impacts of PM2.5 is important. Limiting time outdoors, avoiding outdoor exercise, and wearing a high-quality mask are some strategies that can minimize exposure. Air filters can help reduce the concentrations of particles in indoor air. Taking measures to avoid exposure is particularly important for vulnerable groups. It's also important to note that these strategies aren't equally possible for everyone (for example, people who work outside) — stressing the importance of developing new strategies to address the underlying causes of increasing wildfires.
Over the long term, mitigating climate change is important — because warm and dry conditions lead to wildfires, warming increases fire risk. Preventing the fires that are ignited by people or human activities can help.  Another way that damages can be mitigated in the longer term is by exploring land management strategies that could help manage fire intensity.