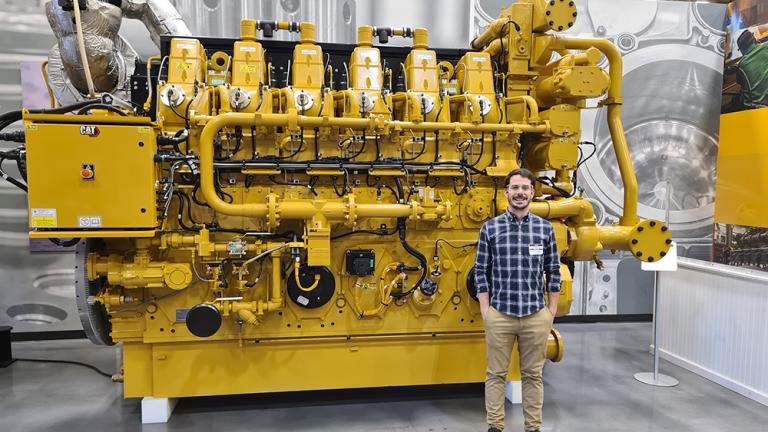 Photo Credit
Photo courtesy of Santiago Andrade
Kara Baskin
As nuclear power has gained greater recognition as a zero-emission energy source, the MIT Leaders for Global Operations (LGO) program has taken notice.
Two years ago, LGO began a collaboration with MIT's Department of Nuclear Science and Engineering (NSE) as a way to showcase the vital contribution of both business savvy and scientific rigor that LGO's dual-degree graduates can offer this growing field.
"We saw that the future of fission and fusion required business acumen and management acumen," says Professor Anne White, NSE department head. "People who are going to be leaders in our discipline, and leaders in the nuclear enterprise, are going to need all of the technical pieces of the puzzle that our engineering department can provide in terms of education and training. But they're also going to need a much broader perspective on how the technology connects with society through the lens of business."
The resulting response has been positive: "Companies are seeing the value of nuclear technology for their operations," White says, and this often happens in unexpected ways.
For example, graduate student Santiago Andrade recently completed a research project at Caterpillar Inc., a preeminent manufacturer of mining and construction equipment. Caterpillar is one of more than 20 major companies that partner with the LGO program, offering six-month internships to each student. On the surface, it seemed like an improbable pairing; what could Andrade, who was pursuing his master's in nuclear science and engineering, do for a manufacturing company? However, Caterpillar wanted to understand the technical and commercial feasibility of using nuclear energy to power mining sites and data centers when wind and solar weren't viable.
"They are leaving no stone unturned in the search of financially smart solutions that can support the transition to a clean energy dependency," Andrade says. "My project, along with many others', is part of this effort."
"The research done through the LGO program with Santiago is enabling Caterpillar to understand how alternative technologies, like the nuclear microreactor, could participate in these markets in the future," says Brian George, product manager for large electric power solutions at Caterpillar. "Our ability to connect our customers with the research will provide for a more accurate understanding of the potential opportunity, and helps provide exposure for our customers to emerging technologies."
With looming threats of climate change, White says, "We're going to require more opportunities for nuclear technologies to step in and be part of those solutions. A cohort of LGO graduates will come through this program with technical expertise — a master's degree in nuclear engineering — and an MBA. There's going to be a tremendous talent pool out there to help companies and governments."
Andrade, who completed an undergraduate degree in chemical engineering and had a strong background in thermodynamics, applied to LGO unsure of which track to choose, but he knew he wanted to confront the world's energy challenge. When MIT Admissions suggested that he join LGO's new nuclear track, he was intrigued by how it could further his career.
"Since the NSE department offers opportunities ranging from energy to health care and from quantum engineering to regulatory policy, the possibilities of career tracks after graduation are countless," he says.
He was also inspired by the fact that, as he says, "Nuclear is one of the less-popular solutions in terms of our energy transition journey. One of the things that attracted me is that it's not one of the most popular, but it's one of the most useful."
In addition to his work at Caterpillar, Andrade connected deeply with professors. He worked closely with professors Jacopo Buongiorno and John Parsons as a research assistant, helping them develop a business model to successfully support the deployment of nuclear microreactors. After graduation, he plans to work in the clean energy sector with an eye to innovations in the nuclear energy technology space.
His LGO classmate, Lindsey Kennington, a control systems engineer, echoes his sentiments: This is a revolutionary time for nuclear technology.
"Before MIT, I worked on a lot of nuclear waste or nuclear weapons-related projects. All of them were fission-related. I got disillusioned because of all the bureaucracy and the regulation," Kennington says. "However, now there are a lot of new nuclear technologies coming straight out of MIT. Commonwealth Fusion Systems, a fusion startup, represents a prime example of MIT's close relationship to new nuclear tech. Small modular reactors are another emerging technology being developed by MIT. Exposure to these cutting-edge technologies was the main sell factor for me."
Kennington conducted an internship with National Grid, where she used her expertise to evaluate how existing nuclear power plants could generate hydrogen. At MIT, she studied nuclear and energy policy, which offered her additional perspective that traditional engineering classes might not have provided. Because nuclear power has long been a hot-button issue, Kennington was able to gain nuanced insight about the pathways and roadblocks to its implementation.
"I don't think that other engineering departments emphasize that focus on policy quite as much. [Those classes] have been one of the most enriching parts of being in the nuclear department," she says.
Most of all, she says, it's a pivotal time to be part of a new, blossoming program at the forefront of clean energy, especially as fusion research grows more prevalent.
"We're at an inflection point," she says. "Whether or not we figure out fusion in the next five, 10, or 20 years, people are going to be working on it — and it's a really exciting time to not only work on the science but to actually help the funding and business side grow."
White puts it simply.
"This is not your parents' nuclear," she says. "It's something totally different. Our discipline is evolving so rapidly that people who have technical expertise in nuclear will have a huge advantage in this next generation."