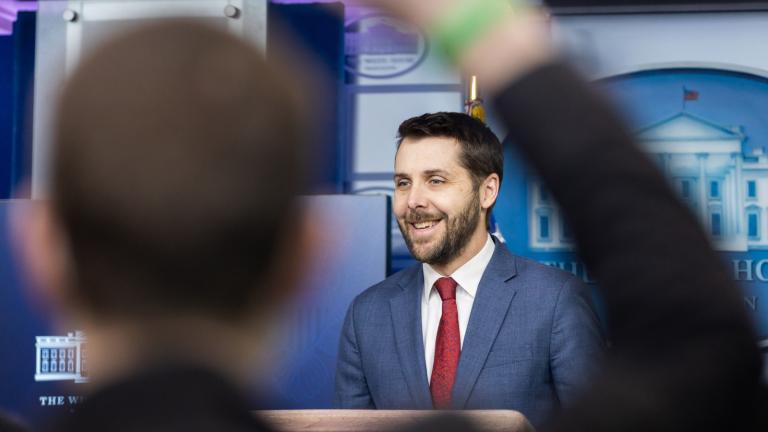 Photo Credit
Photo courtesy of the White House
MIT has appointed former White House National Economic Council (NEC) director Brian Deese as an MIT Innovation Fellow, focusing on the impact of economic policies that strengthen the United States' industrial capacity and on accelerating climate investment and innovation. Deese will begin his appointment this summer. 
"From climate change to U.S. industrial strategy, the people of MIT strive to make serious positive change at scale — and in Brian Deese, we have found a brilliant ally, guide, and inspiration," says MIT President Sally Kornbluth. "He pairs an easy command of technological questions with a rare grasp of contemporary policy and the politics it takes for such policies to succeed. We are extremely fortunate to have Brian with us for this pivotal year." 
Deese is an accomplished public policy innovator. As President Joe Biden's top economic advisor, he was instrumental in shaping several pieces of legislation — the bipartisan Infrastructure Investment and Jobs Act, the CHIPS and Science Act, and the Inflation Reduction Act  — that together are expected to yield more than $3 trillion over the next decade in public and private investments in physical infrastructure, semiconductors, and clean energy, as well as a major expansion of scientific research. 
"I was attracted to MIT by its combination of extraordinary capabilities in engineering, science, and economics, and the desire and enthusiasm to translate those capabilities into real-world outcomes," says Deese. 
Climate and economic policy expertise
Deese's public service career has spanned multiple periods of global economic crisis. He has helped shape policies ranging from clean energy infrastructure investments to addressing supply chain disruptions triggered by the pandemic and the war in Ukraine. 
As NEC director in the Biden White House, Deese oversaw the development of domestic and international economic policy. Previously, he served as the global head of sustainable investing at BlackRock, Inc., one of the world's leading asset management firms; before that, he held several key posts in the Obama White House, serving as the president's top advisor on climate policy; deputy director of the Office of Management and Budget; and deputy director of the NEC. Early in the Obama Administration, Deese played a key role in developing and implementing the rescue of the U.S. auto industry during the Great Recession. Deese earned a bachelor of arts degree from Middlebury College and his JD from Yale Law School.
Despite recent legislative progress, the world still faces daunting climate and energy challenges, including the need to reduce greenhouse gas emissions, increase energy capacity, and fill infrastructure gaps, Deese notes.
"Our biggest challenge is our biggest opportunity," he says. "We need to build at a speed not seen in generations."  
Deese is also thinking about how to effectively design and implement industrial strategy approaches that build on recent efforts to restore the U.S. semiconductor industry. What's needed, he says, is an approach that can foster innovation and build manufacturing capacity — especially in economically disadvantaged areas of the country — while learning lessons from previous successes and failures in this field. 
"This is a timely and important appointment because Brian has enormous experience at the top levels of government in shaping public policies for climate, technology, manufacturing, and energy, and the consequences for  shared prosperity nationally and globally — all subjects of intense interest to the MIT community," says MIT Associate Provost Richard Lester. "I fully expect that faculty and student engagement with Brian while he is with us will help advance MIT research, innovation, and impact in these critical areas."
Innovation fellowship
Previous MIT Innovation Fellows, typically in residence for a year or more, have included luminaries from industry and government, including most recently Virginia M. "Ginny" Rometty, former chair, president, and CEO of IBM; Eric Schmidt, former executive chair of Google's parent company, Alphabet; the late Ash Carter, former U.S. secretary of defense; and former Massachusetts Governor Deval Patrick.
During his time at MIT, Deese will work on a project detailing and mapping private investment in clean energy and other climate-related activities. He will also interact with students, staff, and faculty from across the Institute. 
"I hope my role at MIT can largely be about forging partnerships within the Institute and outside of the Institute to significantly reduce the time between innovation and outcomes into the world," says Deese.