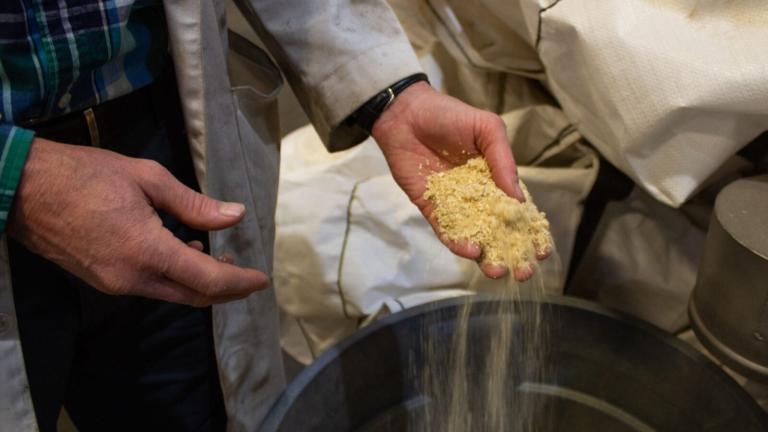 Photo Credit
Annie Ropeik
This story by ESI Journalism Fellow Annie Ropeik was originally published as part of the Hooked on Heating Oil series by The Maine Monitor, where it appears with additional photos and resources.
__________
Maine's forests are crucial as a way to absorb carbon emissions, and as a heat source for industries under pressure to decarbonize and for residents struggling with high oil costs
At a paper mill warehouse near the University of Maine, engineer Ian Toal oversees a huge, intricate machine that turns sawdust into a key ingredient for a new kind of heating oil. 
Researchers at this pilot-scale plant in Old Town, part of UMaine's Forest Bioproducts Research Institute, have spent years developing alternatives to fossil fuels by using wood that might otherwise go to waste.  
The goal, Toal said, is to fight climate change by working toward replacing oil with a "renewable fuel source" — renewable because unlike coal and oil mined from underground, trees regrow over decades. This eventually helps offset the carbon they emit when burned. 
"I've got a 5-year-old at home that I still can't imagine what kind of world he's going to grow up in," said Toal, wearing a dusty white lab coat and safety goggles while giving a tour of the biofuel plant in late May. "Anything I can do to help make that a world close to what we're living in, or a better world, is motivation for me." 
As residents consider their high oil costs from this past winter and plan investments for the future, wood heat is an increasingly attractive option, with complex climate change implications. 
Many climate scientists disagree with the claim that burning wood for energy, as opposed to fossil fuels, has an advantage in slowing the climate crisis. It's a controversial strategy that hinges on a lot of tricky assumptions about forest management, timelines and more. 
This debate is especially important in Maine, the most heavily forested state and, as The Monitor reported in this series, the one most heavily reliant on dirty, expensive oil for home heating. 
Because trees are made of carbon, Maine's expansive forests are a huge storage bank for carbon emissions that would otherwise warm the planet. 
Though state policymakers see some value in wood energy as Maine works toward its climate goals, their focus for decarbonizing home heat is on weatherization and electric heat pumps. 
But Maine's vast forests also make wood heat cheap and widely available. And oil distributors are already touting a transformative new invention in the liquid wood-based fuel that's in development in Old Town. 
A familiar local heat source
Certain forms of wood heat are already common in Maine. Wood pellets and cordwood used in home fireplaces and furnaces are the cheapest heat options for most residents. 
Mainers get more actual units of heat from these wood products than from any fuel besides oil, according to state and federal data — and wood use tends to rise when oil prices spike, as they did late last year. 
Efficiency Maine offers up to $6,000 off the cost of certain central-heating furnaces or boilers that burn pellets or cordwood, described on the rebate provider's website as "a local, renewable fuel." 
Cordwood cut from backyards and by timber companies is everywhere in Maine, while pellet systems run on a fuel mostly made in Maine with compressed sawdust from local mills and other kinds of "waste wood." 
Scott Nichols owns New Hampshire-based Tarm Biomass, which sells pellet furnaces and other wood heating equipment. He sees wood as an ideal part of homeowners' home heating strategy, which can also include electric heat pumps. 
"We ought to be eliminating fossil fuels at every chance we have, and if we have a local resource like wood that's also providing a local economic benefit, it seems like a smart choice," he said. "And maybe in 30 years or whenever, when we have some form of non-combustion technology that can replace the benefits that wood provides, then that's great — but right now we're nowhere near what we need."
Nichols said these wood heat sources are so consistently cheap in Maine for two reasons — abundant local wood supply, and because they have to be low-cost to compete with the convenience and availability of oil and propane. 
Bill Bell, the executive director of the Maine Pellet Fuels Association, said he saw this dynamic when oil prices dropped in the 2010s and pellet adoption slowed. When fossil fuels are an easy choice, he said, it's harder to convince people to make a switch. 
"Our basic competitor is inertia," Bell said. "The (time) that's important for us is right now, when people have gone through a winter and have the time to think rationally about, 'You know, we paid an awful lot for oil or propane, and we should be thinking about making a change, maybe.'"
Plant-based alternatives
Certain oil distributors are exploring something very different from pellets or cordwood. They're working on converting wood and other plants to liquid biofuels, named because they're made of living material. You've used a biofuel before if you've bought gasoline mixed with corn-based ethanol (perhaps called E10 or E15, with numbers referring to the percent of ethanol mixed in).
The heating industry is developing its own biofuels, and mixtures of biofuel and fossil oil, they say could nearly directly replace the heating oil homeowners have delivered to their tanks several times during the winter. 
These fuels are designed to "drop in" to residents' existing heating systems with low-effort, low-cost retrofits and upgrades — such as additives to keep the new fuel flowing in cold temperatures, or gaskets and seals made of materials designed to work better with biofuels. 
Advocates say these liquid fuels can be handled by existing oil workers, trucks and other infrastructure. 
"As I talk to folks in the industry … they're kind of anxious for this to happen," said Tom Butcher, the technical director for the National Oilheat Research Alliance. "They want to demonstrate that they can be part of a low-carbon future."
Butcher's group, known as NORA, was created through an act of Congress in 2000 to study efficiency and safety improvements for oil heating. It's funded by a small fee on heating oil sales, like the checkoff programs that exist for farm commodities.
At a Northeast oil heat industry conference in 2019, NORA and other groups pledged to go carbon-neutral by 2050. Their near-term focus is on farm crops and food waste, not wood — they're rolling out blends of regular oil with increasing mix-ins of biofuels made from plants like soy, canola and corn, plus used cooking oil and other waste feedstocks. 
Toal, the UMaine plant manager, uses heating oil with a 20% add-in of plant-based biofuel at his home in Freeport. Mixtures of oil with 5% or 20% biofuel are already for sale by many oil companies in New England, said Butcher, with 50% and 100% options in the works. 
Toal said using this lower-cost biofuel mix-in helped ease the impact of fossil oil's price spikes this past season, especially combined with his home's heat pump and rooftop solar panels.