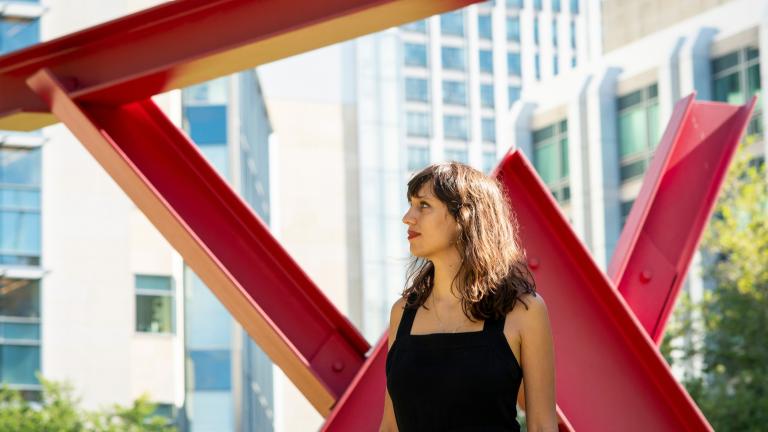 Photo Credit
Photo: Jaypix Belmer
Laura Rosado
Growing up in the Tidewater region of Virginia, Dyanna Jaye had a front row seat to the climate crisis. She recalls beach stabilization efforts that pumped sand from the bottom of the ocean to the shore in response to rising sea levels. And every hurricane season, the streets would flood.
"I was thinking at a younger age about some pretty big questions," says Jaye. "Can I call this place home for the rest of my life? Probably not. The changes that we will endure because of climate change will probably make the place where I grew up unlivable in my lifetime."
Jaye attended the University of Virginia, where she studied environmental science and global development studies. She also started to get involved in organizing efforts around climate policy. The first campaign she was a part of aimed to retire UVA's coal plant and move to more renewable energy.
"We didn't really win, but I learned a lot in that first campaign," she says.
Jaye went on to co-found the Sunrise Movement, which helped launch the Green New Deal as a framework for ambitious, holistic climate policy across the country.
Now pursuing a master's in city planning at MIT, Jaye is seeking a deeper understanding of how to implement climate-conscious policy across all levels of government. She hopes to bring the lessons learned back to her home state.
"My goal is to make it back to Virginia and have a better of an idea of how to plan a multidecade transition that decarbonizes our economy while also building good jobs and protecting the fundamental things that we need in our life," says Jaye. "Virginia was this place where I felt like I could see both ends of the climate crisis, and realized you need a holistic solution to address all aspects of this."
A foundation in organizing
After graduating from the University of Virginia, Jaye led a delegation of young people from the U.S. to the United Nations to campaign for a global commitment to phase out fossil fuels and fund equitable climate solutions. At the time, the Paris climate agreement was being negotiated. Witnessing that process firsthand was eye-opening.
Jaye realized to push the U.S. forward in the fight against climate change, she needed to help build a nationwide movement that could push the federal government to enact ambitious policy. Along with six like-minded friends, Jaye co-founded the Sunrise Movement.
"It feels silly to say this now, but part of Sunrise was just to get climate change to be a more urgent issue, because at the time it was politically unpopular to even talk about it," Jaye says. "The vision that became the Green New Deal was this plan to decarbonize our society within 10 years and bring all the benefits we can to build a stronger, more connected, and healthier society."
Jaye describes her five years with Sunrise as a "wild whirlwind." As the national organizing director, she worked on engagement strategies to recruit new people to the movement. Following a few key wins at the polls, Sunrise grew from a handful of chapters concentrated in swing states to over 500 chapters across the nation.
On the other side, crafting policy
Though she is no longer directly involved with the Sunrise Movement, Jaye has moved onto a different stage of the fight. For the final year of her master's, she will be writing her thesis while working with the Massachusetts Office of Climate Innovation and Resilience. The office is newly established as of this year, evidence of the federal funding wins that Sunrise helped make possible.
"Transparently, we wanted to win a lot more," says Jaye. "We had huge goals, but we did win a lot of things at the federal level. So, the time is now to get federal funding and move it through state implementation and planning, and it's urgent."
The flexibility of the city planning program allows students to study theory while also putting that theory in practice in local government. Jaye's thesis will focus on the best planning approach for full government strategy, informed by her work in the climate office. While previous climate policy focused purely on the environmental sector, effectively addressing climate change will take a multipronged approach touching every sector, from transportation to housing to energy distribution to food production.
"What's really cool about being in the government right now in Massachusetts is getting to see a model as they're trying to take climate from being an environmental priority to a number one, whole-of-government challenge," says Jaye. "It's an issue that's embedded into every department and level of our government."
As she finishes her master's, Jaye is still keeping an eye toward home. While she isn't in a rush to leave Massachusetts, she is always thinking about the lessons she's learning can apply to Virginia. And by building skills in both planning and organizing, Jaye will be well-equipped to make an impact wherever she lands.
"I still feel very committed to community organizing. We're living in a divided time where our democracy is being challenged, and organizing is what we need to do to respond to that," says Jaye. "We also need a lot more people diving in on the work of policy and governance to determine how we transition our economy and our energy system, how are we going to go about doing something like that. Right now, I'm feeling excited to be on that side of the work."