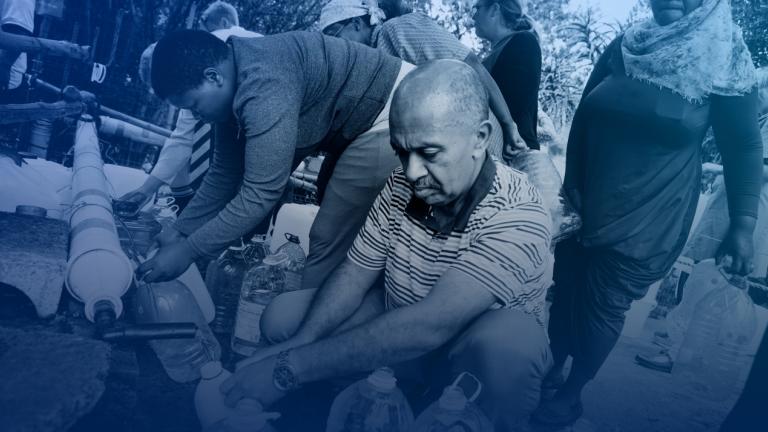 Photo Credit
Melanie Stetson Freeman/The Christian Science Monitor
In the waning weeks of 2017, many residents of Cape Town, South Africa, lined up day and night to fill old jugs with water from the city's few natural springs. Palpable angst hung in the air. After months of warnings through an anomalously long drought, Cape Town was on the verge of becoming the world's first major city to run out of water. Freshwater dams had dipped below 25% of capacity, and levels continued to fall. If the dams fell to 13.5% of capacity, the municipal water network would shut down, and millions of residents would face severe water restrictions. 
The dams never reached that critical 13.5% level, dubbed Day Zero. The city instituted water restrictions, increased water tariffs, and spent the majority of its R1.4 billion ($86 million) drought-­related budget to construct three emergency desalination plants, which delivered critical water supplies. Residents also took matters into their own hands, collecting water from the natural springs and installing rain catchment systems if they had the means. 
Four months later, the rains returned, and dam levels rose. But the shadow of Day Zero still lingers over the city. "The citizens of Cape Town have not forgotten the fear caused by the drought and potential for the city to have run out of water," says Kevin Winter, a lecturer in environmental and geographical science at the University of Cape Town.  
Thanks to the memory of Day Zero, Winter says, average daily water use in the city is between 700 and 800 million liters, about half what it was in 2014. But even if consumption remains low, the next drought could challenge those efforts. And scientists believe that Cape Town will face more sustained droughts over the next 100 years because of climate change. 
Although drought instigated the water crisis, experts say it was exacerbated by existing issues, including poor water management and infrastructure problems at dams and other collection points.
The city has a plan to address the situation. In consultation with researchers and scientists, it outlined a new water strategy in 2020 that aims to make the city's water supply more resilient to future droughts. The planned approaches include diversifying water sources to include groundwater from wells and boreholes, recycled stormwater, treated wastewater, and household gray water, which could be reused for gardening and other applications that don't require something clean enough to drink. There are also plans for more desalination, controls on water use, leak reduction, and infrastructure investment.
Read the full article here: https://www.technologyreview.com/2021/12/23/1041301/africa-cape-town-drought-water/