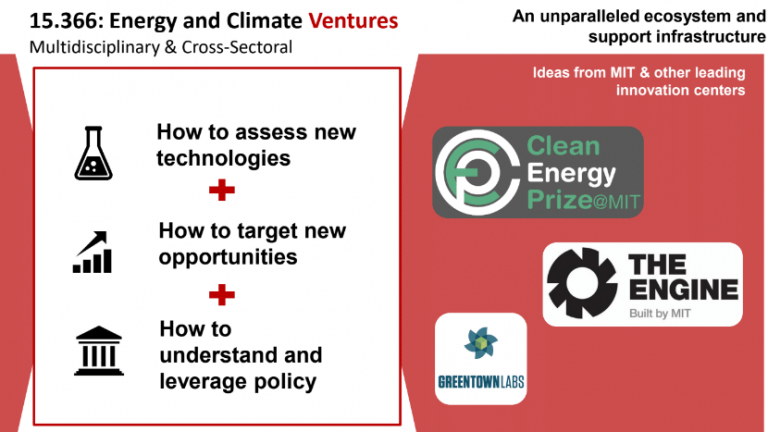 Are you passionate about solving climate change through innovation and entrepreneurship? MIT Energy & Climate Ventures, Course 15.366, is opening up applications for the fall semester course! The course is
 looking both for impactful climate & energy-focused technologies to join the course and great students to join as team members.
​
The class gathers cross-disciplinary skills (technology, business, policy, law, etc.) to form teams around new technologies emerging out of several of MIT's labs. Over the course of the semester, students will work with their team to build out the venture's business and market-launch efforts. The class has spun out over 30 ventures over the last ten years, with many achieving significant market traction. Sectors include:
energy & power

transportation & mobility

agriculture & food

carbon sequestration & resources/environmental

advanced materials & chemicals and 

enabling technologies

 
The application is now open for undergraduate and graduate students, and the faculty will be hosting an informational webinar (recommended to join if you want to participate in the course in the fall). The course is highly selective. 
The course is highly selective and is open to MIT students and those at Harvard graduate programs. We are hosting two informational webinars in the next few weeks (July 16th and 26th) and interested students can sign up here for those webinars as well as to receive the application.
To receive the application and sign up for the informational webinar, please fill out the form here:
https://bit.ly/15366int
If you or anyone has any questions or thoughts, please reach out to Alex Prather at aprather@mit.edu