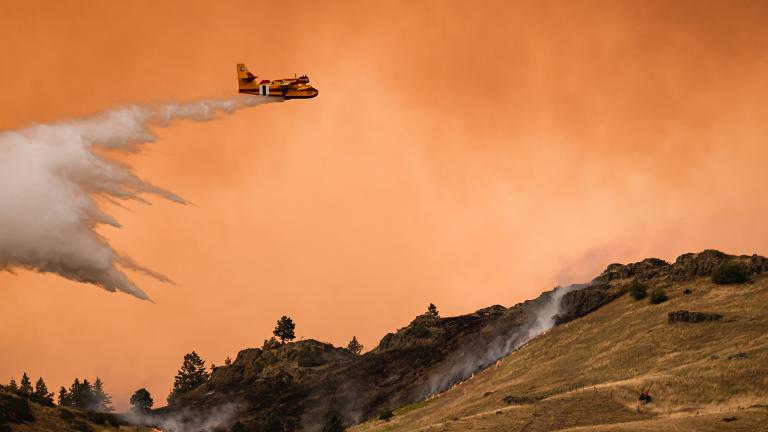 Photo Credit
Hunter D'Antuono | Flathead Beacon
This story by ESI Journalism Fellow Micah Drew was originally published as part of Montana's Climate Change Lawsuit reporting by The Flathead Beacon, where it appears with additional photos and resources.
__________
Bigfork teenager Kian Tanner was raised beside the Flathead Valley's scenic mountains and rivers. Now, he's fighting to save them.
I think that the majority of my childhood was spent outdoors," Kian Tanner said sitting at a picnic table outside of Sweet Peaks ice cream shop in downtown Kalispell.
It's a Monday afternoon in mid-May, and it's hot for May —75 degrees and sunny.
"A lot of kids in my generation grew up playing video games, being stuck indoors. My parents emphasized spending time outdoors and really embracing nature." Tanner continued. "It's sort of ingrained in my being to be out in nature and just enjoy life at its purest."
Yet Tanner, who is now finishing up his senior year at Kalispell's Flathead High School, said the natural landscape he learned to embrace as a child is changing underneath his feet, and the Montana he is set to inherit is far different from one his parents chose to raise him in. As rising temperatures have spawned longer and hotter fire seasons and disrupted local water systems, the activities that shaped Tanner's childhood — soccer, fishing, hiking, running around with his dogs — have become interrupted.
Tanner is one of 16 youth plaintiffs involved in Held v. State of Montana, a landmark climate lawsuit that alleges that the state of Montana, by supporting policies that have continually promoted extractive industries, has violated the plaintiffs' right to "a clean and healthful environment in Montana for present and future generations," as outlined in the 1972 Montana Constitution.
The lawsuit hinges on two main statutes that plaintiffs say have allowed Montana to continually promote the use of fossil fuels — the state's energy policy and a provision of the Montana Environmental Policy Act (MEPA) that blocks the state from considering how its projects contribute to climate change. During the Held trial, attorneys for the youth plaintiffs will argue that by following these two policy planks, the state has violated the constitutionally protected right to a clean and healthful environment.
The Tanners raised Kian on 27 serene acres in Bigfork, a stone's throw from Flathead Lake and the Jewel Basin, a pristine natural landscape known for its remote lakes and hiking trails. In talking about his childhood, Tanner recalls a patchwork of activities set to the backdrop of northwest Montana's scenic wilderness — fishing trips down the Flathead River; soccer tournaments, first as a member of the Bigfork Bandits club team and then as a Flathead High School varsity player; and hikes in Glacier National Park.
"I love fishing, I love hiking, I love being outdoors in general. This is the right place to be for it," Tanner said.
The Held complaint, filed in 2020, details how rising temperatures, wildfires and changing water conditions have impacted Tanner's health and curtailed his ability to participate in the very activities that defined his upbringing.
Climate scientists have found that increasingly dry conditions have doubled the number of large wildfires in the Western U.S. between 1984 and 2015, and that climate change has been the main driver of this increase in destructive fire events.
According to the Montana Department of Natural Resources and Conservation (DNRC), 1,954 fires burned 122,503 acres in Montana in 2022. Nearly 940,000 acres burned across Montana in 2021. In 2020, the number hovered around 380,000 acres, costing tribal, county, state and federal agencies nearly $50 million.
Last summer, the Elmo Fire scorched 21,349 acres of land to the southwest of Flathead Lake, an event that, for days, blew smoke across the Flathead Valley, and directly into the Tanners' Bigfork backyard.
Tanner calls the smoke "a limiting factor for my childhood."
"Especially in July, August, September, when the fire months come in Montana, the smoke turns pretty bad," he said.
According to the U.S. Environmental Protection Agency (EPA), exposure to wildfire smoke can lead to eye and respiratory tract irritation, reduced lung function, bronchitis, worsening asthma and heart failure.
Beyond the risks of growing wildfires, Tanner has observed changes to the landscape of Glacier National Park, which he calls "one of the most influential places in my life."
"Seeing the snowpack recede every single year and get smaller and smaller, and earlier and earlier, it's been huge," Tanner said, recalling the shifts in the park's ecosystem. "It's really depressing to see all the burnt trees and the forest fires."
Park officials report that Glacier National Park is warming at nearly two times the global average, resulting in stark changes like the shrinking of its iconic glaciers, increased fires, enlarged disease-carrying insect populations and wildlife disruption. All 26 named glaciers in the park have gotten smaller in the past five decades, with some losing as much as 80% of their surface area as of 2015.
"Kian hopes to continue recreating in Glacier National Park, a place of significance to him, but the dead and dying forests, melting glaciers, and declining snowpack diminishes these experiences and recreational opportunities. He is distressed that he will never be able to see the natural glaciers as they have historically existed, and as other generations experienced," the Held complaint reads.
And, as water temperatures rise, oxygen levels decrease, and in-stream flows decline, reshaping Montana's rivers, Tanner has been limited in his ability to fish, a proud tradition of the family that Tanner learned from his father, a conservationist and fly fisherman of over 50 years.
By 2080, researchers predict Montana could lose as much as 35% of its cold-water trout habitat.
"As much grief as I give him about, 'Oh, I don't want to go fishing,' I think that he really taught me to embrace it and really taught me to love spending time in nature," Tanner said, remembering his first experiences fishing with his father. "Fishing is sort of an outlet to just unwind and let everything disappear."
Continue reading on the Montana's Climate Change Lawsuit website.