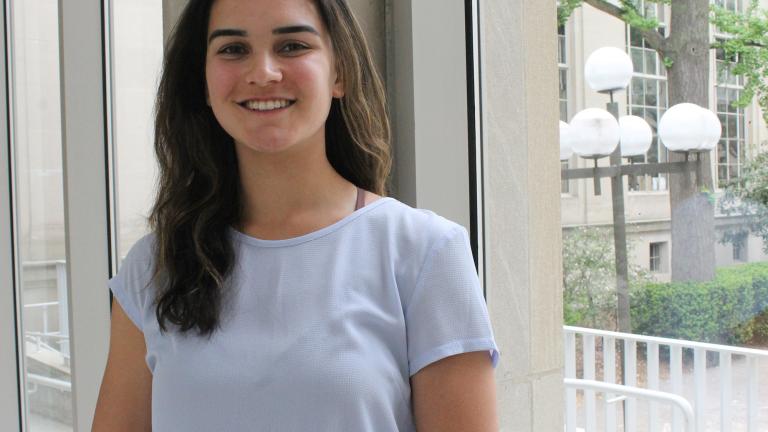 Photo Credit
Photo: Lisa Hickler
Lisa Hickler
Arina Khotimsky '23 was selected for the 2023 Michel David-Weill scholarship, awarded each year to one student from the United States in a master's program at Sciences Po in France who exemplifies the core values embodied by its namesake: excellence, leadership, multiculturalism, and high achievement. This fall Khotimsky will enter the master's program in international energy, which is part of Sciences Po's Paris School of International Affairs. The program aims to provide a holistic understanding of energy issues, across disciplines and across all energy sources.
Khotimsky graduated this year from MIT with a major in materials science and engineering, and minors in energy studies and in French.
Asked what drew her to her major, Khotimsky talked about her love of the outdoors. Seeing effects of climate change on the world around made her made her want to explore solutions. "I settled on material science and engineering because there's so many different applications: whether it be solar power, developing different battery materials and chemistries, or some other technology. Getting that technical background at MIT can help me understand how we can implement solutions around the world, with diverse cultures in mind."
One of Khotimsky's material sciences professors, Polina Anikeeva, observes that "Arina possesses the spirit of creativity, optimism, and unparalleled work ethic — all necessary ingredients to solve energy and climate challenges of our century."
Khotimsky is well aware of the big stakes in discussions around energy policy. She explains, "We have to cooperate internationally to make a dent in carbon emissions. The United States is historically the biggest CO2 emitter and has a large role to play to transition to a more sustainable future."
Her interest in studying climate change solutions on a world scale also converged with her interest in studying other languages and cultures. Her main language studies at MIT have been in French, although she also speaks Russian and beginner Chinese.
Due to her achievement in MIT French classes, Khotimsky was one of nine students selected for a two-week cultural immersion program in Paris last June, led by MIT Professor Bruno Perreau. Perreau also had her in class last fall, and spoke about the energy and commitment she brought to class, describing her as "one of my very best students since I started to teach 22 years ago." Khotimsky is excited to be living in France for her master's program and putting her French skills to work.
Khotimsky's impressive undergraduate career has also included being co-president of the MIT Energy and Climate Club, and participating in the MIT delegation to 2022 Conference of the Parties summit (COP27) of the United Nations in Egypt last November. She also participated in the NEET Decarbonizing Ulaanbaatar project, traveling to Mongolia in Independent Activities Period 2023 with a group of students and instructors to work on clean heating technologies for traditional ger homes.
In addition to her academic work and other extracurricular activities, Khotimsky was also a member of the MIT women's rowing team. She walked onto the team as a first-year student, making it into the Varsity 8 boat for her senior season. Holly Metcalf, MIT women's varsity openweight rowing coach, explains, "Being on the rowing team has in many ways become a metaphor for what Arina has come to study ... She realized that rowing is about so much more than physics — it is about who one must become as an individual to contribute to the sum of mental and physical strength of the entire team." Khotimsky was recognized on May 22 by the Patriot League, who named her the 2023 Patriot League Women's Rowing Scholar-Athlete of the Year.
Looking ahead, Khotimsky envisions her future involving international energy negotiations or policy. "The master's degree I'm pursuing in international relations will help me develop skills to communicate with stakeholders from around the world and figure out how to implement solutions globally."