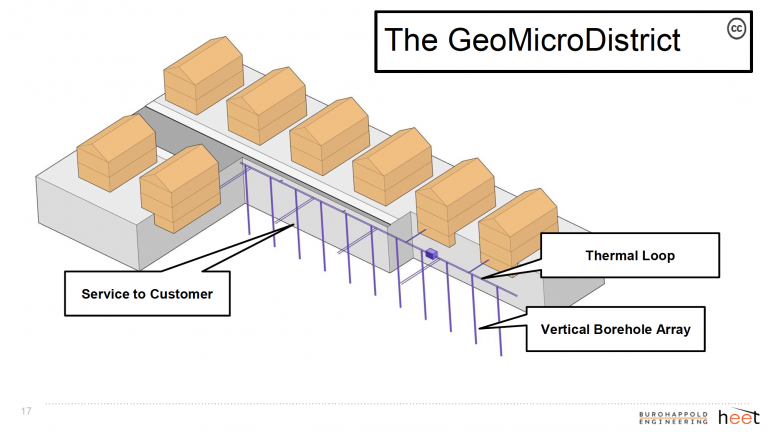 If you're around the Boston area during MIT's January 2020 Independent Activities Period (IAP), here's a great opportunity to contribute to the development and testing of an exciting new renewable energy program that simultaneously addresses the vexing challenge of gas leaks.
Natural gas heats most buildings in Massachusetts.  However, a quarter of the gas pipes under our streets are aging, leaking, and need to be replaced. These repairs will cost MA gas customers over $9 billion and lock us into fossil fuels for many decades.
Instead, you can help Cambridge nonprofit HEET develop a safer renewable-energy replacement for the gas infrastructure, to provide efficient year-round building heating and cooling.  
The GeoMicroDistrict is a new form of utility-scale geothermal energy, sharing heating and cooling loads between buildings, and with backup storage in the ground. Building on HEET's successful feasibility study with BuroHappold Engineering, Eversource (the local gas utility) plans to install and test three GeoMicroDistricts in 2021.  
During this January IAP, HEET is convening an open-to-the-public collaborative design charette on GeoMicroDistricts (here's the official MIT IAP listing).  Over four sessions, you'll learn about the concept and its opportunity, and then help create the engineering, financial, design and evaluation questions to make these 2021 pilots a success. The event will be run by Audrey Schulman (Co-founder and Executive Director, HEET), and Zeyneb Magavi (Director, HEET), with guest appearances by other experts. This is a wide open field, a true new frontier in renewable energy!
The event spans four sessions, all in MIT room 2-135:
Wed 1/15, 1-4pm  - Introduction to GeoMicroDistricts, guided brainstorm & workgroup selection
Wed 1/22, 1-4pm - Collaborative workgroup session
Mon 1/27, 1-4pm - Collaborative workgroup session
Fri 1/31, 1-3pm - Presentations & discussion of results with Eversource
HEET is a spunky Cambridge nonprofit that cuts carbon emissions through system change. Funded by donors and foundations, it's known for gas leak mapping and work on fixing super-emitting gas leaks.
 About GeoMicroDistricts:
Advance registration is required. Sign up by January 15 at http://bit.ly/geomicrodistrict-mit2020