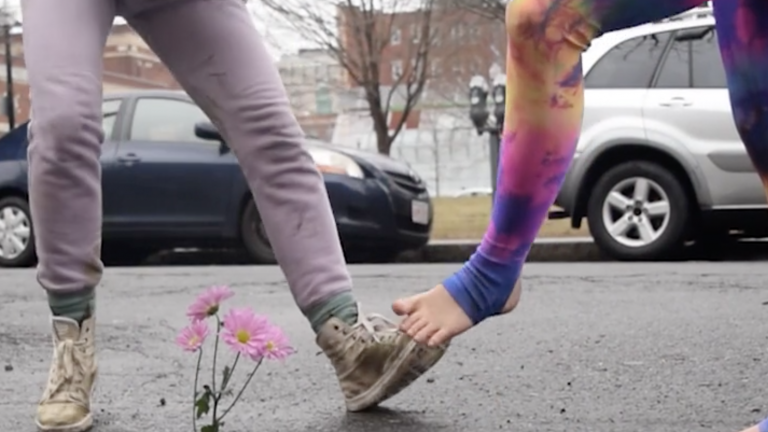 "Make the invisible visible" is a fundamental part of building public engagement on climate change. Unseen gases, delayed effects, complex feedback loops, collective responsibilities...all conspire against the reckoning that urgent action is needed.
"Make the invisible visible" also happens to be something that the arts are quite good at, so it's encouraging to witness the growth of artist responses to climate change.
At Boston Civic Media's recent workshop on Climate Change Across The City, I caught up with several art and design instructors who participated in the 2017-18 Boston Civic Media climate change cohort. I was particularly glad to see how students in Jane Marsching's MassArt class "Art and Ecology" took on the invisible problem of natural gas leaks.
Among many assignments in course, these first-year students worked on "Pipeline Resistance civic engagement." In collaboration with advocacy group Mothers Out Front and Boston University ecologist Nathan Phillips, students investigated and reflected upon leaking natural gas pipelines in an urban context. They produced creative sound and video projects which communicate the problem, activist engagement, and proposed solutions.
Six student project videos are collected here. You'll find a poetic meditation…
…pointed satire…
…and several flavors of documentary, such as…
It looks like the students learned a lot about this important issue, and I'm glad they've shared their work. 
Want to learn more about taking action on gas leaks? It was the focus of a 2017 ClimateX co-sponsored short course on citizen science and climate change, now documented on MIT OpenCourseWare. And be sure to check out the "uncommon partnership" between the Gas Leaks Allies advocacy coalition and the three gas utilities in Massachusetts, to find, measure and fix large volume gas leaks. (Due in no small part to the Allies' efforts, the Massachusetts legislature just approved new requirements for utilities to begin reporting and accounting for the volume of leaked gas.)
[Image from video "Gas Leak Poets" by Journey Temple and Moo Butler.]